Every business is struggling to improve their efficiency and, nowadays, software and technology are used to stay a step ahead of the competition. This is especially true in the highly competitive world of tourism where the goal is to be more productive and, at the same time, create a unique experience at the best possible price.
Booking flights efficiently and in a cost-effective way has always presented an issue because of various third-party airline supplier systems (GDS, consolidators) and the internal knowledge needed to find and deliver the best flight offer to each client.
Challenge #1 – Time loss and errors when booking flights on different systems
We have found that many travel companies are experiencing inefficiency while booking flights using two or more different systems that are not fully integrated with their travel agency's back office software:
Employees need to login to each supplier's system to search/book tickets
Employees are retyping tickets from suppliers' systems to their back-office/CRM making them slow to create complete itineraries and invoices
Employees are slow at creating quotes, which results in lost prospects who expect the price of a travel package fast, if not immediately
The additional manual work leads to errors
Challenge #2 – Specialized and certified staff being utilized only for handling flights
Only a certified person can search for and book flights directly in GDS:
Specialized GDS-certified employee cost the company more than a regular employee who handles reservations
Such employees are harder to find on the labor market
Communication with the customer is not centralized. It is inefficient if one employee is handling tickets and another one is handling other travel products for the same customer
Challenge #3 – Missed opportunities if a flight reservation is not integrated with the agency's back office/CRM software
When part of the process takes place outside of a company's core back office solution, a company is losing possible benefits:
Unable to offer flight ticket search and booking directly on their online B2B/B2C portals
Unable to utilize advanced back office features such as automatic follow-ups, which help agencies raise their conversion rates and close more deals
Unable to get the whole picture of their sales and operational performance because flight reports (passengers, airline companies) are not integrated with other insightful business reports that are provided by their travel agency's back office solution
Advantages of booking and selling airline tickets directly from the back-office system
With the goals of increasing efficiency and simplifying the whole process mentioned above, Lemax has created a new flight booking module within its integrated software solution for travel agencies and tour operators.
Our fast flight booking engine provides several solutions, from which travel agencies could benefit on a bigger scale. When talking about ticket search, this module enables employees to search for tickets within multiple systems (GDS, while the connection with airline consolidators is not yet implemented) at once.
Usually, employees need to have special knowledge when it comes to GDS to be able to get the best ticket possible, but not with our module. We made it possible for our customers to complete this process through an intuitive point-and-click interface. This results in time and money saving scenario because the same person already selling other travel products can sell flight tickets and even combine products together.
Those same airline tickets can easily be added to packages (itineraries, quotes), which usually include accommodation, activities, and other travel products. Since the customer database is already present in the CRM part of the Lemax travel agency software solution, you can apply your specific market/customer margin rates to flight ticket prices.
From the Lemax interface, you can manage flight ticket changes and cancellations, making your daily tasks more efficient. While we're already talking about efficiency, Lemax offers automatic follow-ups, the ideal tool to use after you've sent a quote to a customer. This feature significantly increases conversion rates as well as revenue.
When it comes to sales, you can create invoices with all travel products, including flights and purchase the ticket, all within Lemax.
Since everything is done within the same system, you can easily track reports of sold tickets and view the list of passengers and most-used airline companies. Finally, as a cherry on top, you can have cumulative reports on all travel products you sell.
Airline distribution systems and requirements for integration
Lemax is currently integrated with several GDS providers (Travelport Galileo and Amadeus), which means real-time connection with such wholesaler systems. To be able to purchase airline tickets directly from GDS systems, your travel agency must be IATA accredited. Otherwise, you can book a ticket through another partner who is already an IATA accredited agent or you can purchase tickets from an airline consolidator like Mystifly, which procures fares from more than 70 different countries. Consolidator requirements (setup fee, etc.) are less demanding than what is required for accessing a GDS. Low-cost carriers (LCC) typically cannot be booked through GDS, so a consolidator is a good solution for booking low-cost flights.
Here is our airline reservation system glossary where various flight terms are explained.
How does the search for the best airline ticket work in Lemax?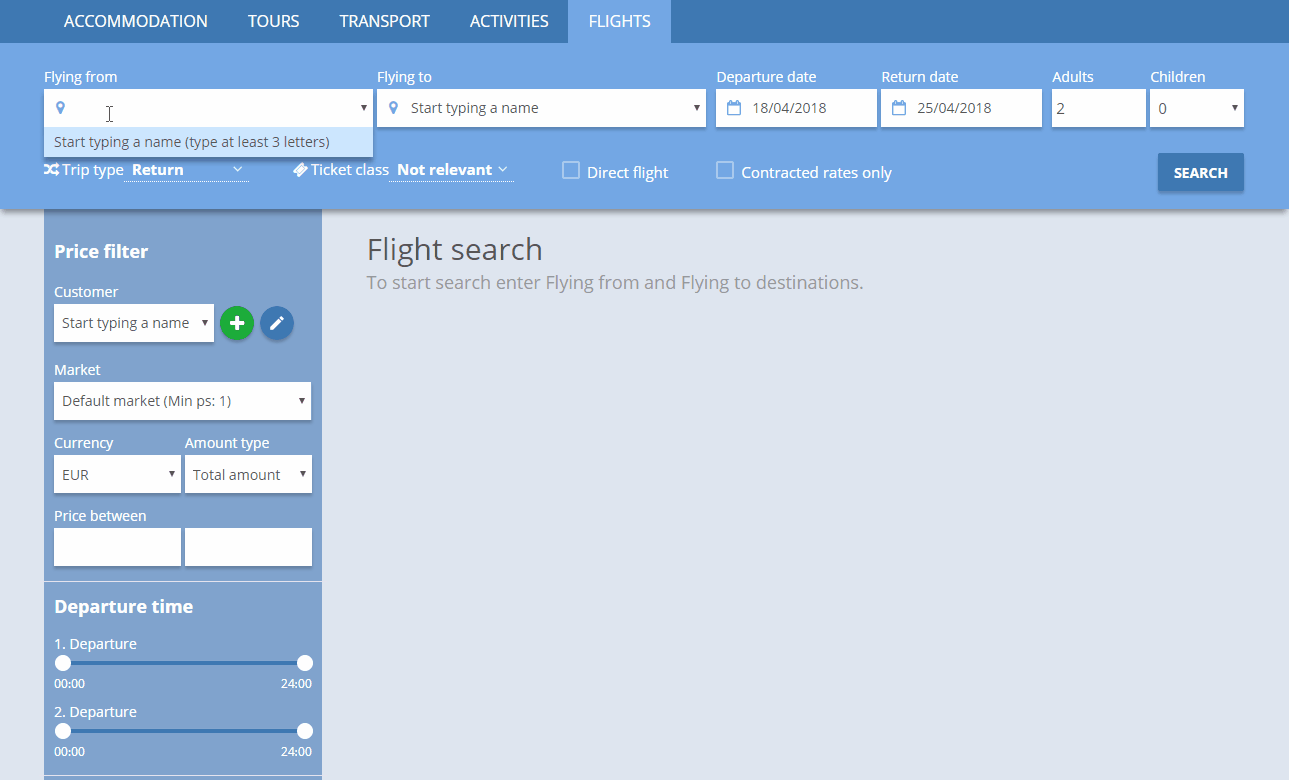 Picture #1: flight booking software back office interface – search for flights in Lemax
Lemax flight ticket booking software supports many filtering options that help narrow your search:
type of passengers: adults, children
flight type: return, one way, multi-city flight, direct flights only
ticket class: economy, premium economy, business, first class, premium first class
flights with contracted rates: different flight prices depending on your customers and/or your markets
Type of tickets: cheapest (cheapest flights first), quickest (quickest flights first), best (optimal sort when comparing price and flight duration)
After finding the best flight(s), the next step is to add it to the standard back office's reservation (of a new or an existing customer). When a reservation is confirmed/paid, you can book the ticket and send the invoice automatically to the customer.
Managing booked flights/tickets is easy. You or your customer can interact with the tickets or reservations and see the current status. According to the actions taken, statuses are changed accordingly (quote, booked, issued, cancellation) both in Lemax and GDS system.
Offer flight booking online to your B2C / B2B customers

Picture #2: search for and book flights engine integrated into a website
The front-end flight search and booking process is, of course, slightly different than in the back office (not all features are visible to a customer/partner).
Improve your flight ticket booking and selling process with Lemax
The advantage of combining and managing your GDS flight tickets and other travel products in a single software solution is clear: it improves travel agency efficiency and cuts costs.