For decades, digital transformation was a force of its own. Aiming to empower employees, optimize operations, transform products and engage customers, it changed the course of businesses across all industries. More than half of all gross domestic product (GDP) worldwide had become digital, as businesses generated revenue from modern technology solutions.
When the world was hit with a global pandemic, digital transformation itself was transformed. The need for business continuity during a time of rapid change, as well as the need to work differently due to limitations, or to achieve cost savings, has made digital transformation a priority. As Microsoft CEO Satya Nadella said, "We've seen two years' worth of digital transformation in two months."
A new survey finds that the Covid-19 crisis has speeded up the adoption of digital technologies by several years. McKinsey's survey says that executives from numerous economies have noted that funding for digital initiatives has increased more than anything else.
Slow Pace of Travel Industry Digital Transformation
When it comes to the travel industry, digital transformation is not new as seen with the high levels of online penetration in airlines and more recently short-term rentals, spearheaded by Airbnb since 2008. But the overall trend is slow and the undergoing changes are not developing at the same pace as in the majority of industries. Tourism is in a state of inertia with stakeholders still struggling with lots of administration and manual work, without automation and systems in place.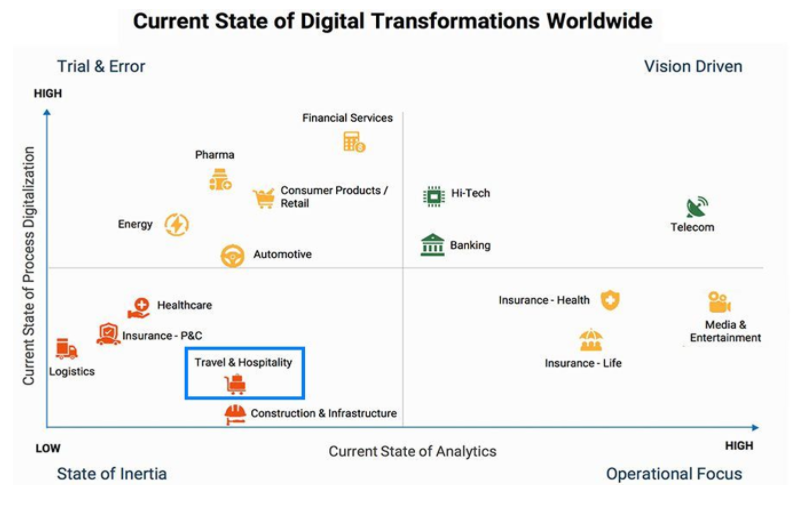 Slow processes bring more spent resources – time, money, people, lost opportunities, mistakes, and finally, bad experience. The key for success is to transform processes and enforce collaboration, speed, efficiency, automation, up-to-date information, getting and sharing destination-related information from institutions, ensuring access to healthcare even away from home, and delivering a better experience. Consequently, it will allow travel companies to focus on the essence of their existence – providing unforgettable experiences to travelers and excellent service to their partners.
Investment Plans on the Rise
When talking to our prospects and looking at survey results from Arival, almost 50% of Tour operators have either no systems or have a combination of multiple systems that are not integrated, making their process slower, and directly affecting the revenue.
However, According to Euromonitor's latest Voice of the Industry – Digital Survey, travel businesses are ahead in terms of planning their technology investments.
Areas of planned investments indicate that once digital technologies are in place for the business fundamentals, the innovation horizon expands to go beyond the functional and elevate customer service. Meaning, once operations are automated, companies are successfully reinventing the digital economy.
That is digital transformation and it has brought us, for example, a software for an app that helps consumers and businesses to manage flight disruptions, features that help travelers identify providers that offer free cancelations, robotic luggage transfer with no face-to-face interactions, robots with the aim of providing meals and drinks to guests and reducing interactions between staff and customers, digitalizing the navigation process of check-in and room location, etc.
How much are tour operators and DMCs actually ready to meet travelers' new expectations? With ever more consumers working, shopping and socializing online, digital tech is omnipresent in consumers' lives and key for engagement across the traveler journey.
There are more scenarios that can happen to those who don't act now.
Covid-19 Accelerator and the Rapid Change
Unlike in previous crises in the history, where travelers' spending power was weakened, this crisis has had different effects: it irrevocably changed customers' behavior, as well as their decision-making processes, points of view, and values.
Digital technologies have entered all aspects of everyday life, from researching, collaborating, ordering, and purchasing whatever needed. These new habits will become important for travel companies as well. Travelers expect an on-demand and foremost personalized service with seamless communication through various channels.
People are reading online reviews and want to do everything online, get fast responses, tickets, reservations, and vouchers directly to their inbox or phone. Behind the curtain, travel companies are required to be fast in responses, making quotes, share the latest health and security updates, have risk-free cancellation and rebooking processes, collaborate with suppliers, respond to inquiries, have colleagues working from different addresses, increase efficiency and revenue, understand the business performance, and minimize risks. With the essential automation of engagement follow-ups and collecting customer feedback in order to develop after-sales and new opportunities, the importance of proceeding with digital transformation for travel companies is now more critical than ever.
Statistics on EU population participating in tourism clearly present the volume of travelers amongst GenZ, Millennials, and Generation X; generations fully embracing the digital channels and technologies.
Activities and experiences are what consumers engage in when away from home, and during Covid-19 these in-person experience services were impacted enormously. Pre-crisis, there was a strong preference for shopping by international and domestic visitors, spending 15 times more on shopping than culture and heritage, followed by casinos.
Yet, despite the high levels of spending, these two areas are not expected to recover for at least five years or more. However, culture and heritage experiences are expected to take four years minimum, with recovery aided by online bookings. The outlook for nature-based experiences such as visits to national parks is even more optimistic and expected to happen within two years.
As companies slowly re-emerge from the crisis, the importance of engaging and building relationships and emotional links with the end consumer, personalization, and unique offers becomes more vital than ever before.
New Approach to Customer Segmentation
Customer segmentation will become more complex; travel companies should start thinking about microsegment and move away from grouping customers into basic boxes like business and leisure travelers.
Rather think about "digital nomads finding a weekend getaway", "business travelers staying the week", "families with kids looking for an adventurous weekend in nature". The data will become your best friend. People will be interested in alternative offers and destinations – maybe enjoy nature away from crowds, vacation rentals, driving by themselves, etc.
Digitalization and having up-to-date data will become crucial. Many tourism companies have struggled with keeping pace with new consumer digital preferences. In Europe and the United States, as many as 60 percent of travel bookings are digital. Also, some trends show that in the post-Covid-19 era, travelers will look for speed and flexibility. As McKinsey stated, more than 90 percent of recent trips in China were booked within seven days of the trip itself.
Disregarding Digitalization Means Stagnation
Our research shows the increase in the willingness to use travel agent services. In order for tour operators to differentiate from OTAs, on-demand services are just the first expectation that requires action.
To understand the entire customer journey and to improve the customer experience at every touchpoint is vital for growth.
With post-Covid travel growth incoming, travelers are hungry for new experiences and eager to travel again. But on different terms. Experiences that are authentic, local, and unique are those that will continue to captivate travelers' attention. Meanwhile, seamlessness across the customer journey is a valued asset for brands, ahead of convenience.
And to quote McKinsey again, "To stay competitive in this new business and economic environment requires new strategies and practices", which takes time. Investing the time you have now to prepare for the demand by introducing technology is crucial. Make sure that disregarding digitalization is not the reason for the stagnation or decline of your business.
Read our free ebook on how to prepare for finding the best travel technology for your company.