What do you get by having software that supports mail communication? What does the communication look like then?
Read our blog and find out more about communication centralization and travel software that supports it as well as its features.
Key features:
connect Gmail, Outlook or any other e-mail service with the software (e-mail centralization)
connect conversations with reservations
track e-mails by reservation number
track conversations with customers and suppliers from inside the reservations
send emails/documents directly from the system
register more different e-mail addresses/accounts
subscribe employees to specific e-mail addresses
see all subscribers and conversations by these addresses
track the history of all e-mails
1. Connect e-mail service with travel software and centralize all e-mails
No matter if you are using Outlook, Gmail, Yahoo or a similar e-mail service, it can be integrated into the travel software, in a communication module. Once integrated, all e-mails from the e-mail service can be found in the software. Also, e-mails that have been sent from the external e-mail service will be transmitted and stored in the software's database. In other words, all incoming and outgoing communication, with suppliers and customers alike, done through an e-mail address (e.g. travelagency@gmail.com) can be followed from the software's back office. Of course it doesn't mean you need to necessarily abandon the email service you normally use because all of the e-mail communication will be visible there as well.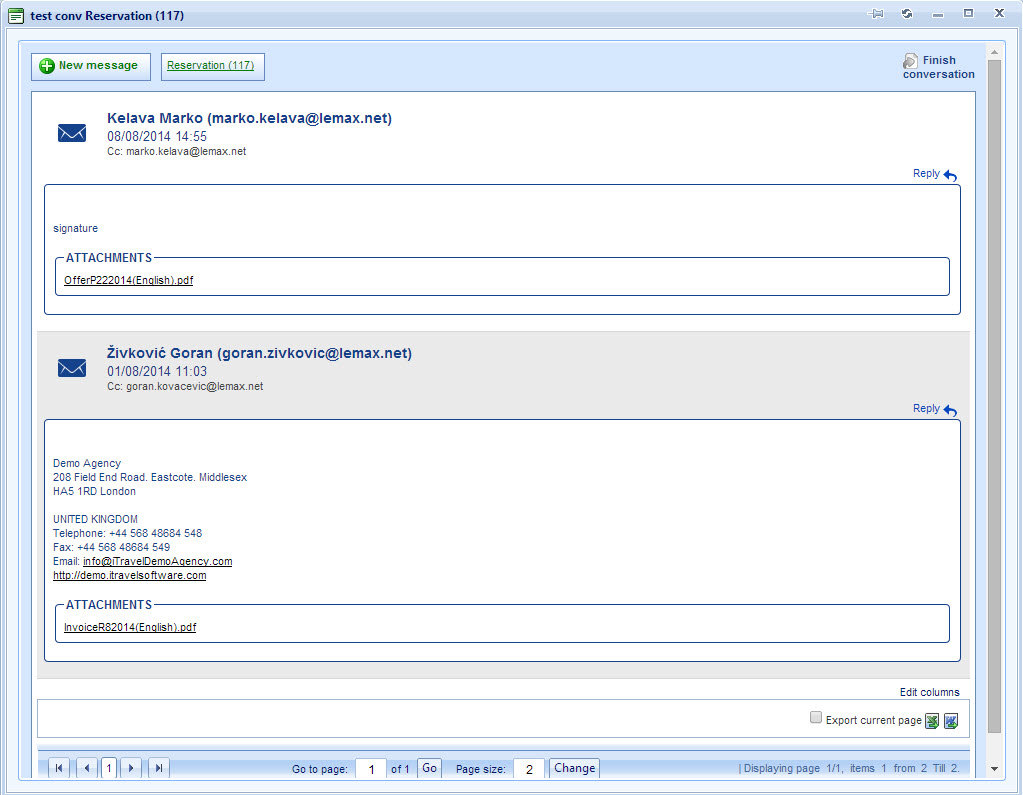 2. Track e-mail history on individual reservation
Once a conversation is associated with a specific reservation, you can find all the history in the reservation window itself. You might find it important to monitor reservations and corresponding conversations by reservation statuses. Let's assume you want the list of all reservations that are in the inquiry status and see what your customers are inquiring about (in the e-mails) so you can provide them with the corresponding services. You may also want to track whether you have sent them all offers. This way you will be able to check this as well.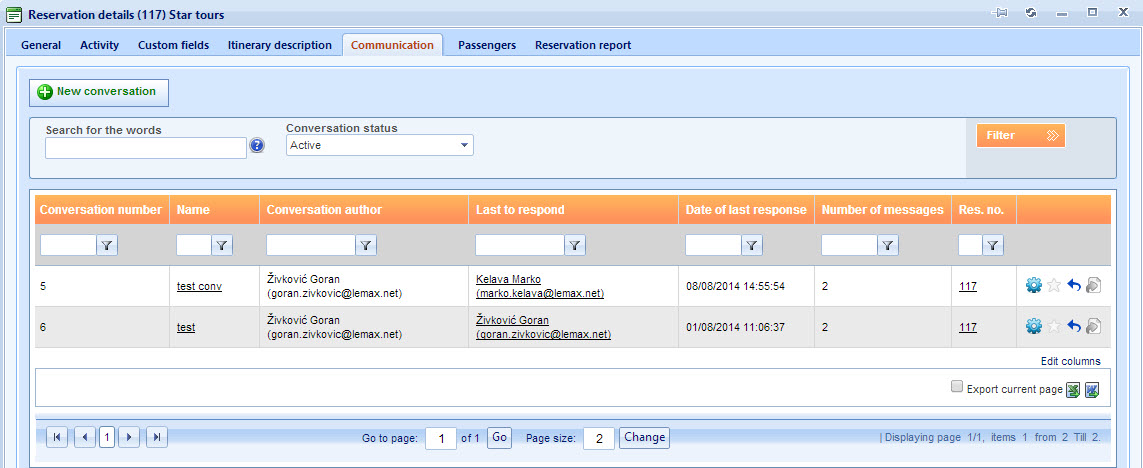 3. Track all e-mail history with the communication module
Everything regarding mail info can be found inside the system:
date and time sent
recipient and sender (senders can be different if you allow more employees to have their own e-mails in the system)
e-mail attachments
return e-mail
reservation number
conversation status (active/finished)
You can find regular e-mail information, as well as the more advanced features such as: reservation number (if the mail is sent from your existing reservations then the answer is related to the same conversation, and since the conversation is connected with booking, then the individual email will be connected too), conversation status that you define by yourself (active or finished). The conversation can be kept active for as long you expect a response – from yourself or from the customers / suppliers. For all resolved things it can go to finished and not interfere with active conversations. Another great feature is that you can filter e-mails by conversation status, a specific word that e-mail contains, the conversation author etc.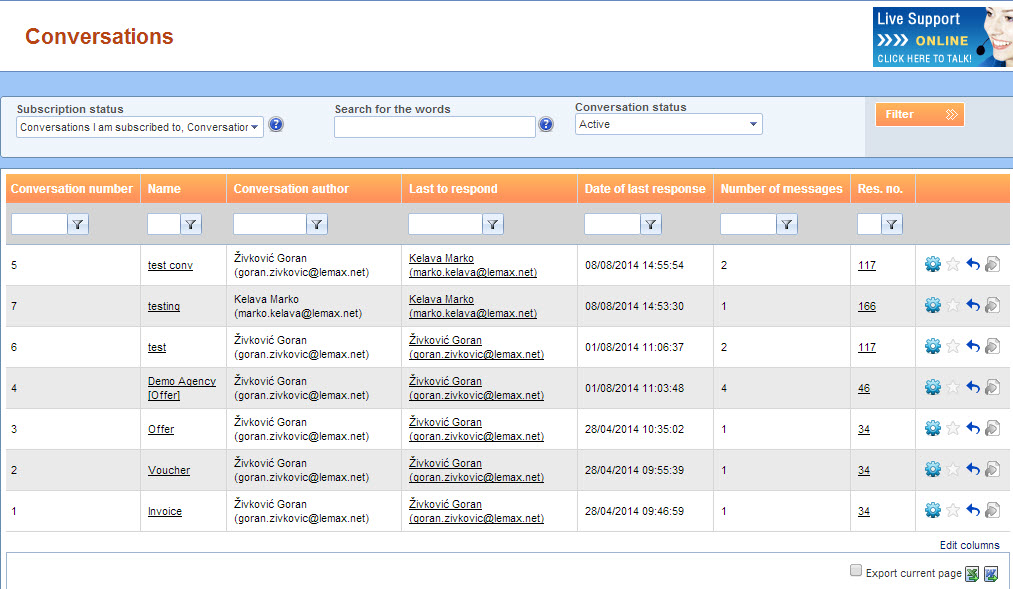 4. Send e-mails with an attachment
If you create a specific document in the system and you want to send it to your customer, there won't be any need to go to your e-mail service outside the system. Just generate the documents and send them from there. One good thing is that, once you have entered the customer's name onto the reservation, the system automatically takes their e-mail address (if it has been entered with the customer). Later on you can filter the documents according to the status: sent/unsent. In that way you will know for sure which ones you need to send to your customers (without fear of sending the same thing twice). You can also add attachments browsed from your computer (e.g. terms and conditions).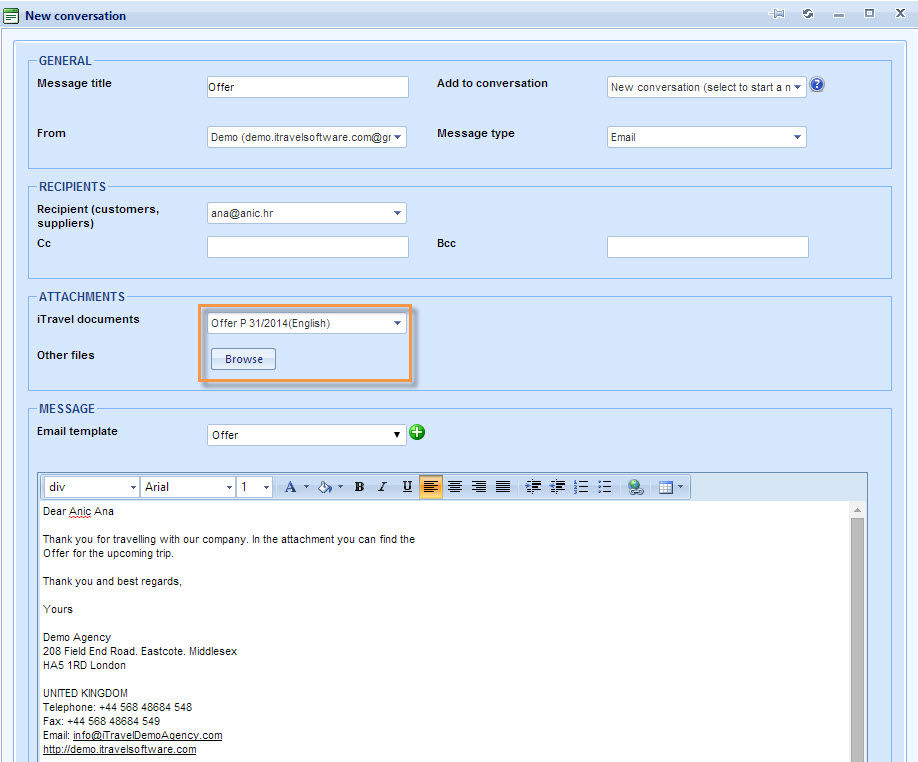 5. Create numerous mailboxes and subscribe your employees
What is a mailbox? It is a public or private box for incoming mail. You can have multiple mailboxes from different e-mail servers (Gmail, Outlook etc). In the software you can create more mailboxes for different departments and subscribe employees to specific ones that are associated with their department. There can be more users subscribed to one e-mail address – e.g. we have 10 employees from sales department. You can create a mailbox called Sales, enter info@sales.hr and connect the users to it. That way your employees from sales department will be able to see all e-mails that came to this e-mail address. As an administrator, you can also control who belongs to which mailbox and who can edit it. The end result will it be that you will be able to see the list of all subscribers and conversations according to mailboxes.

6. Easily create/export the mailing list
After you have entered the customer's, partner's or supplier's e-mail address, it will be stored and associated with that specific person/company. So later on you will be able to find them inside the system and use for other purposes e.g. sending newsletters. What you can do is make an export to some of the newsletter tools such as Mail Chimp, SendEmails in order to create a marketing campaign for them. You can develop a special strategy for customers, send them special offers or birthday cards for their birthday. On the other hand, suppliers and partners can be informed about special events and similar.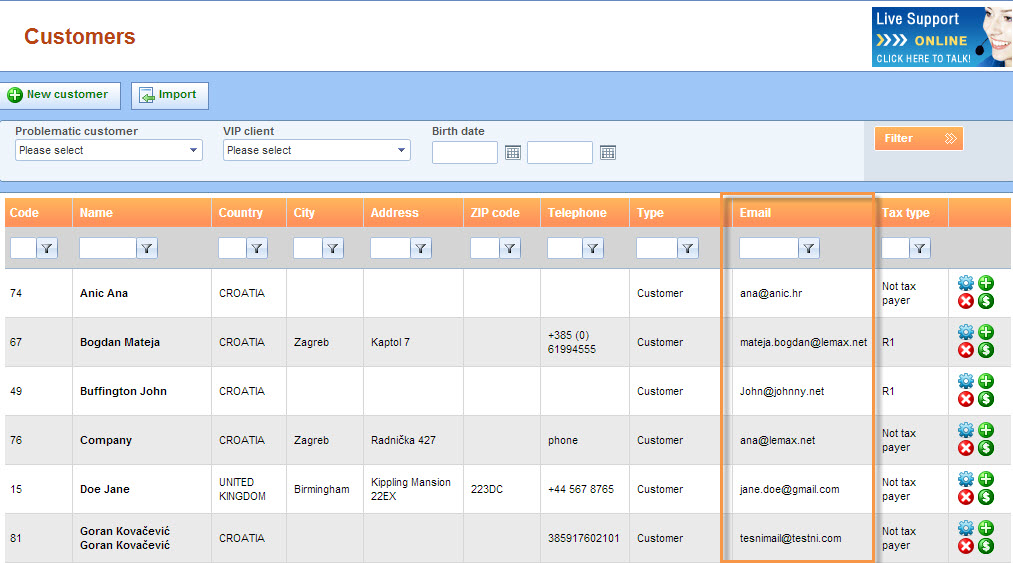 Learn more about Lemax
Find out more about our communication module!