Thinking about how to generate more traffic on your travel agency website? How to get returning visitors? How to differentiate from your competitors and build trust? And as a result, get more inquiries? Consider starting a blog for your travel business. Especially now in the post-Covid tourism rebound phase when people want to learn about opening destinations, how to stay safe, what to see where, etc. Help travelers in their decisions during post-Covid travel rebound and build trust by showing your expertise to increase demand!
We have prepared this guide to help you understand why every travel business should start a blog today. Moreover, you will learn what are the benefits of publishing a blog for your travel agency. You will find some best practices related to creating it, finding ideas, some dos and don'ts. If you find this post interesting, we encourage you to download a full free whitepaper and learn even more; it was created by our marketing experts who have more than 10 years of experience in digital and content marketing.
Top reasons and benefits to start a blog for your travel agency
According to Hubspot, 80% of internet users interact with both social media sites and blogs, while companies with blogs produce an average of 67% more leads monthly than companies that don't blog.
The blog brings in traffic – every time you publish a blog post, it creates one more indexed page on your website. Every new indexed page is another opportunity for you to show up in search engines such as Google and drive traffic to your website through organic search.

The blog increases your conversion rate – by providing relevant information and expertise, your travel business seems more reliable and trustworthy than competitors. People see how much you know about destinations, how you follow trends, and potentially contact exactly you for their next trip.

The blog gives your company a face and a voice – you appear more trustworthy to your potential clients.

You get an additional promotional channel, which is free! If you are writing about the top places to visit in Ireland, you can link your tours below blog post. But be careful, don't use a blog post for selling!
Define your audience, make a content plan!
There are particular challenges which you might face when starting a blog. For example, how to structure it, who will write it, how to find ideas? First of all, the most important thing is to define your audience, know who you are targeting! Learn about their travel habits, a budget they are willing to spend, destinations they are interested in, their demographics, know their pain points, and solve them! Then think about your catalog and offers, your target markets, what kind of tours you are selling.
When you have these things defined, you can start thinking about content ideas. A blog can be a very creative place for your potential travelers, include nicely-structured text, beautiful pictures, infographics, videos. Tourism is all about the experience; let it start with reading about the destination.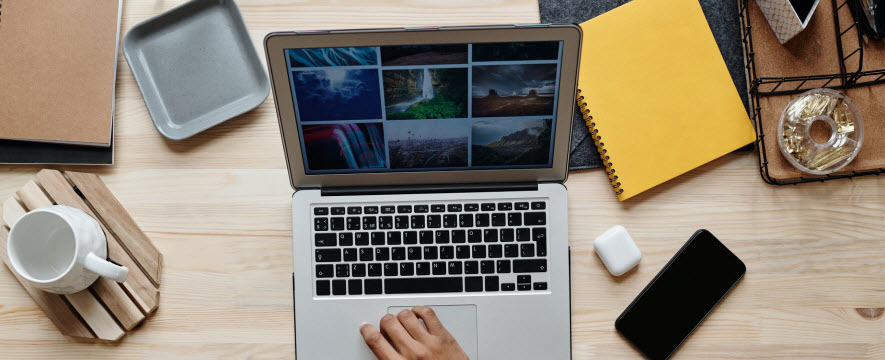 What about content creators? It's important to hire a good writer who knows how to structure text for a blog post, understands how search engines work, and can optimize a post for specific keywords and topics (SEO skills are a plus). If you don't think that you need an in-house writer, there are many platforms where you can find great freelancers to do the work for you. You can even collaborate with some famous traveler/adventurer who has a great audience that might fit for you and create a piece with him As a guest writer.
Blog writing best practices
Let's go through some dos and don'ts when you write a blog. Learn more in our whitepaper!
Finding ideas – don't copy: When you are finding ideas, it's okay to check other people's blogs, but never copy! First of all, it is not fair, and second, Google can find copies, and you will get bad rankings. You had so many talks to your travelers, think about what they are constantly asking, answer those questions in your blog posts! Read community groups and portals, Tripadvisor, and so on. You can write about must-see locations in a specific country, the best places to try local food, how and what to pack for a specific destination, and so on, be creative.
Keywords and SEO: Find a keyword and explore search engine inquiries – simply start typing and see what google suggests; these are things that people are searching for. You can get ideas there. We wrote another guide on digital marketing tactics for travel agencies, so go there to learn more about this.
Follow trending topics: With Covid-19 controlling how and where people can travel, be the first one to inform them! Have trustworthy resources and inform them about places they can visit: opening destinations, safe travel suggestions, who to contact in each country, etc., of course, make a bigger focus on destinations you are offering.
Length and structure: Keep it nicely structured; you need a catchy headline, things like "top 7 things to do…", "must-see places in…" might work well, keep it sweet. Don't use too long sentences, a big wall of text, use paragraphs. Add photos and videos! The ideal blog post length should be 2,100-2,400 words, according to HubSpot data.
A no-no! Do not sell your products and services on your blog post! Inspire people, educate, engage, make them interested, and they will search around what you are offering. You may add your banners around posts, but do not be pushy.

When your post is ready and launched, think about how to distribute and promote it, you want the world to see it! Use your social media channels, share via newsletters, engage in discussions in comments, ask questions, build your community!
Influence travelers' decisions with your expertise – build trust and increase inquiries
By educating your audience and helping them find all information when they need it, you are creating a brand story, community and establishing your agency as an expert on the market. As a result, you are simplifying travelers' decisions while providing solutions for them and building trust by showing your expertise!
So if you want to bring more traffic to your website and make your website look more active and content-rich, then blogging is definitely the way to go. Just have patience and keep in mind the golden rule of blogging; it's not about selling now, it is about getting repeat visits to your site, creating community, and building trust, which as a result might bring an increase in demand and bring a new way for getting more inquiries.