Why do we exist?
What are our goals in the upcoming years?
How will we get there?
These questions are crucial for any company, and they become even more important when the company aims higher, gains more experience, and expands with a growing number of employees.
As we evolved from a small company to a team of over 100 employees, planning, documenting, and communicating our destination and the means to achieve it became imperative.
While most of us understand the critical role of defining a transparent company's mission, vision, and strategy in running a business, the process of achieving clarity in these definitions and engaging the team in execution is what makes the company grow and change successfully.
Persistence in Crafting Strategic Initiatives Pays Off
We have been working on defining strategic initiatives at Lemax for more than six years, and year after year, we have improved it to fit our needs and culture. Our journey involved experimentation, searching for the right frameworks, and acknowledging when something needed a better definition. Most importantly, this journey was marked by continuous learning and improvement.
Today, we have a streamlined process for defining strategic initiatives that involve all our leaders. This process addresses what it takes to realize the company's vision and mission (top-down) and the operational reality, including advantages and obstacles (bottom-up).
As the company evolves, so does this process. What is essential is to stay committed to process development, learn, and implement further. The key is to persevere in the development of this process.
It All Starts with the Purpose
At Lemax, we globally support tour operators in their digital transformations, enabling them to efficiently create, sell, and operate multi-day tours through seamless integration with their suppliers and customers. Our goal is to revolutionize the multi-day tour industry and empower our clients to focus on their core mission—providing travelers with unique experiences.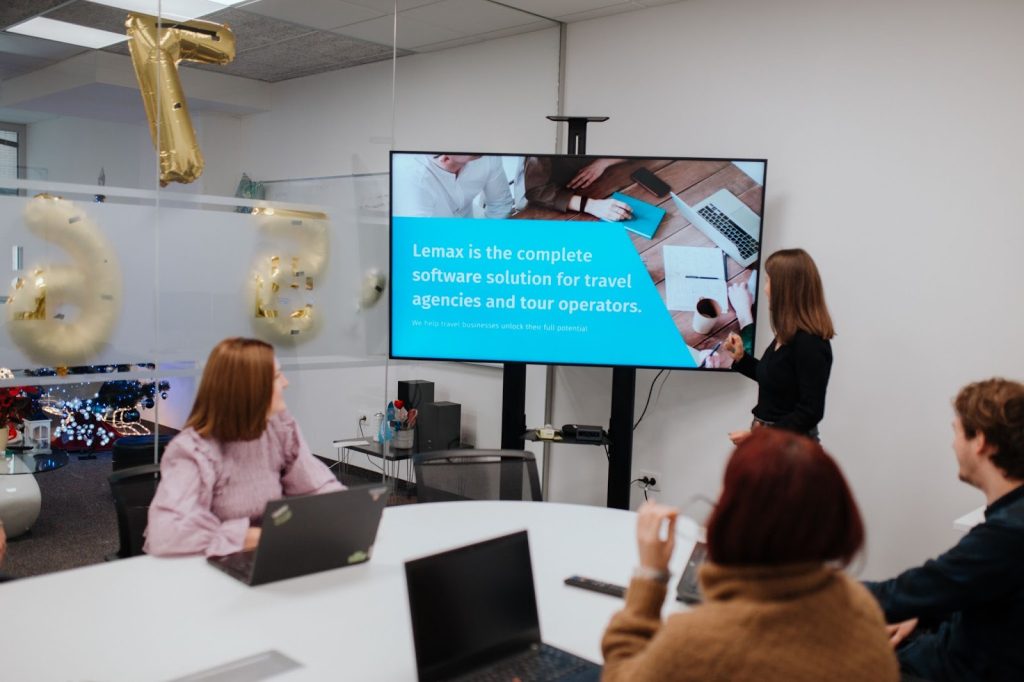 Once a year, our leadership team pauses to ask itself: How will we achieve this?
Annual Company Roadmap
We organize strategic planning sessions yearly to make important decisions about our overall goals. Planning is organized through multi-day workshops in February and March. Planning in this part of the year allows us to focus on finalizing the previous year's targets at the end of the year and the beginning of the year. Additionally, we define specific priorities for each department every three months.
Our annual strategic planning aims to step back from day-to-day operational challenges, allowing us to contemplate the bigger picture and identify moves and strategic initiatives with the most significant impact on our future results. When conducting annual strategic workshops, we start with our vision and business goals for the upcoming 3+ years.
Our leadership team and specialist contributors who influence our business actively participate in this process. It is always a team effort.
We employ the Balanced Scorecard framework to define strategic initiatives, categorizing initiatives into Finances, Customers, Learning & Growth, and Processes. To clarify what we want and how to measure success on both annual and quarterly levels, we use the OKR methodology, customizing both frameworks to our unique requirements. Each initiative and its supporting goals must have a dedicated owner and a well-defined timeline.
The Crucial Shift from Planning to Execution
The leadership team invests substantial time in creating a strategic plan, but the real work comes after goals are defined. Research reveals that 67% of organizations struggle with effective strategy execution. To avoid becoming part of these statistics, we focus on setting up a strong execution system at the strategic level.
What does a good strategy execution system mean to us? It is a set of various factors – from mindset, skills, and processes:
LEADERS – each business domain needs to have an owner
We need to have clarity on HOW DO WE DEFINE STRATEGIC INITIATIVES AND GOALS, what this process looks like for us
Clarity on how we do ALIGNMENT among departments and the whole company around strategy and goals
What are the ROLES AND RESPONSIBILITIES of people in the execution
How and how often do we COMMUNICATE strategy, goals, and realization in the company
How do we MONITOR, TRACK, & REPORT our goals to ensure successful execution
What are the BEHAVIORS (CULTURE) that support the execution
How do we react and LEAD CHANGES that affect strategy execution
Gaining clarity on each factor requires dedication, involvement, and time. We still have a lot of parts of the execution system to establish, but we are proud of the progress with each quarter.
This year, we started a pilot project for the process of defining departmental goals that are aligned with the strategy. We practiced for a few quarters and listened to what worked for us and what didn't in that process. While the process continually evolves, early feedback from managers highlights its significance in providing transparency on departmental objectives and aligning them with our company's vision, mission, and strategy.
Key Execution Muscle #1 – Adaptation
When planning each new period, we consider the context, progress, and current challenges and adjust our plans as needed.
Contrary to the fear of changing goals, research indicates that fully successful companies are twice as likely to recalibrate and adjust strategy execution plans in response to insights from execution metrics or changes in the business context.
Often, the 'change of goals' is not a change of the entire direction but only the tactics of how to reach that goal. Reality sometimes shows us that the chosen path or speed is not good enough and needs to be adjusted.
At Lemax, we make these adjustments quarterly and during September while assessing the year's expected outcomes.
Key Execution Muscle #2 – Communication
Managers convene jointly once a quarter to discuss progress and plans.
We communicate our strategy and goals to all employees at least twice a year, while managers do the same quarterly for their teams. Alignment and communication have a significant impact on employee satisfaction and engagement.
While working on good communication inside the organization always needs some improvement and adjustment, we are proud that the system of defining and communicating company strategy and goals in Lemax is established and working, and we see that it's crucial for alignment among departments. When communication towards and among the leadership team is good, they will be more encouraged and equipped to communicate with their team members.
Embracing Change and Evolving Through Experience
We have started establishing practices and ways of working to ensure that the strategy initiatives we usually invest a lot of time in are truly implemented in practice. However, we still have a lot of work to do to get that system up and running.
What's next to establish in our process?
We need to address specific aspects of the communication process to ensure each individual has a clearer picture of their impact. As a second focus, we aim to embrace the execution mindset and behaviors, crucial elements of the execution culture we want to evolve. This is just a part of the development, and we will certainly adapt everything according to our growth and new needs. The essence is to move towards the desired results and big dreams.
Strategic execution and planning are dynamic; they set the path, lead the way, and help actualize large-scale dreams. Although this process requires continuous improvement and upgrades, we are proud that our process supports our dreams and makes them a reality.