7 minute read
Are you struggling with a lot of manual work, countless spreadsheets, paperwork, and contracts all over the place? If you are a tour operator, DMC, or travel agency, your tasks and processes you used to perform manually, and that took a lot of time, as well as human resources can be done with the help of tour operator software. It can allow your team to use time better and get business done more efficiently. In this article, we will describe the eight steps to follow when buying a tour operator software.
Choosing the right vendor for your core travel software solution is one of the most critical decisions a company can make. Research [1] shows that the travel industry is generally in a state of inertia when it comes to the business's digitalization. Nowadays, technology has altered and automated the way people work, socialize, and do everyday tasks in their lives.
We all know how devastating Covid-19 was for many businesses and industries, travel especially. But people can't wait to start traveling again, visit their dear ones, explore destinations and their own country even more. At the same time, the way of work has changed, your teams maybe need to work from home and have all the needed resources available.
It will take time to recover completely, but digitalizing and transforming your way of work now and redoing your processes will make you ready, efficient, and fast when the regrowth of travel starts.
Why do you need a travel software for your tour operator business?
As we already mentioned, we are all aware that many of you struggle with a lot of manual work, countless spreadsheets, paperwork, and contracts all over the place in your everyday work. Excel is a powerful tool, but it is not a solution tailored to manage a travel business. Take a look from your clients, suppliers, and partners' perspective! These problems make your processes slow, make you unresponsive, mistakes happen, which leads to missed opportunities and bad business relationships.
By implementing a core software solution for your travel business, you can manage more work in general with fewer resources and be more efficient. As a final result, you can boost business results, increase the number of bookings and sold products, and in the end, deliver a better experience, and build stronger professional relationships.
Digitalize your processes now and be ready for new demand in the post-pandemic period
As UNWTO [2] stated recently, many global destinations have eased their restrictions for travel, but caution remains. Also, information on country-specific regulations changes often, so for you as a tour operator, it will be crucial to stay informed and keep your offering up-to-date.
People want to feel safe and informed. You will need to provide flexibility, unique and alternative offers, and much useful information for the destination. We can expect that group travel will recover much slower, as people don't want to be surrounded by people they don't know. But, things like private rentals, adventures in nature, exploring "hidden gems" without a lot of crowds, as well as domestic travel will be the most interesting. So stay informed, act fast, be unique, bring trust.
In 20 years of working closely with tour operators, we've discovered more than 40 areas where they lose money without even realizing it. We are aware that the Covid-19 pandemic impacted a lot and slowed down tourism; you probably had to reduce the number of employees, so you need to start thinking about optimizing your processes now and saving resources, both time, money, and workforce.
Digitalization will enable you to automate most of the manual work, thus lowering overhead costs and increasing the profitability of each sold experience. By having all your contracts, offers, prices, and communications in one platform, your people can work from anywhere considering that work-from-home or anywhere your people are is the new way of work for most of us. Thinking about new software investment now will help you be prepared for the rebound of tourism and new demand in the future.
Choosing the right software solution can kickstart the growth of your tour operator company – and preparation is the key to success
Choosing the core software for your company can often be overwhelming. Many questions come up: How do you choose the best software for your company? How do you define "best"? What are the steps I need to take to ensure success?
There are many software vendors that sell to travel businesses, so finding the right solution for you can be a long and tedious process. Depending on your business's size and the complexity of your processes, it can take anything from a couple of months to even a year to choose the right solution when buying a tour operator software. Preparation is key to this process.
Step 1 – Define your core team – gather a team of people who will lead and manage the project, define who owns it, who is a project manager monitoring and controlling the project, who are the key users who understand internal processes and should help you build the requirements.
Step 2- Identify the needs and map the requirements – write down everyday jobs and processes, missing things, your pain points, and define the "why" do you need a software solution. Then map your requirements by different criteria; not everything is a must-have and crucial for decision making. Be careful with this phase; it is one of the most important ones, be prepared for your conversations with various vendors.
Step 3 – Define the budget – you need to think of this as an investment, not only a cost. Think about how much time and new workforce you might need without the software to do your work in the future.
Step 4 – Dedicate a project manager – define who is responsible for driving the project through phases. He should know the company and processes, include who, understand the requirements, and manage the timeline.
Step 5 – Research the software options – remember that you are not finding only a software vendor, but a partner who should boost your business and support your initiatives with their solution, industry knowledge, and support. Explore the features, but also customer referrals and success stories, roadmap, implementation process, support.
Step 6 – Create a shortlist – define top vendors who meet your high-level criteria and start the deep dive.
Step 7 – Conduct deep-dive research into the top vendors and their offerings – start talking to vendors about all details from your requirements list and all other aspects. It would be best if you came prepared for these conversations with the right questions for the vendor and be prepared to answer theirs. Learn how to get ready – download our ebook and learn more.
Step 8 – The last step is to buy the software – negotiate around important long-term details in your contract and finalize your project.
There is one important aspect, and that is the price. Usually, when buying a tour operator software, the price depends on multiple factors such as the number of users, parts of the system that you would use, fee on transactions, implementation, etc. Whatever pricing model the vendor has, it will be hard to calculate your end price in an introductory call, so maybe focus on that in later stages. As Warren Buffett says: "Price is what you pay, value is what you get. ", so try not to decide between two vendors only depending on the price.
Excellent preparation can turn your search into a fulfilling project that will kickstart your company's growth, whereas a lack of preparation could turn this process into a nightmare. When implementing a core software solution, you're not buying – you're investing. Investing in a core software solution is a cost and time-effective approach that will ensure your business's growth, development, and scaling.
Download the free ebook and learn how to prepare for this crucial project
Many of our employees have been working in the IT industry for a long time and have been involved in buying many different software solutions throughout their careers. On the other hand, we also interviewed dozens of customers to understand what makes their businesses successful. We have prepared a free ebook with a lot of information, additional cheat sheets, and guides on preparing for buying a tour operator software solution for your company.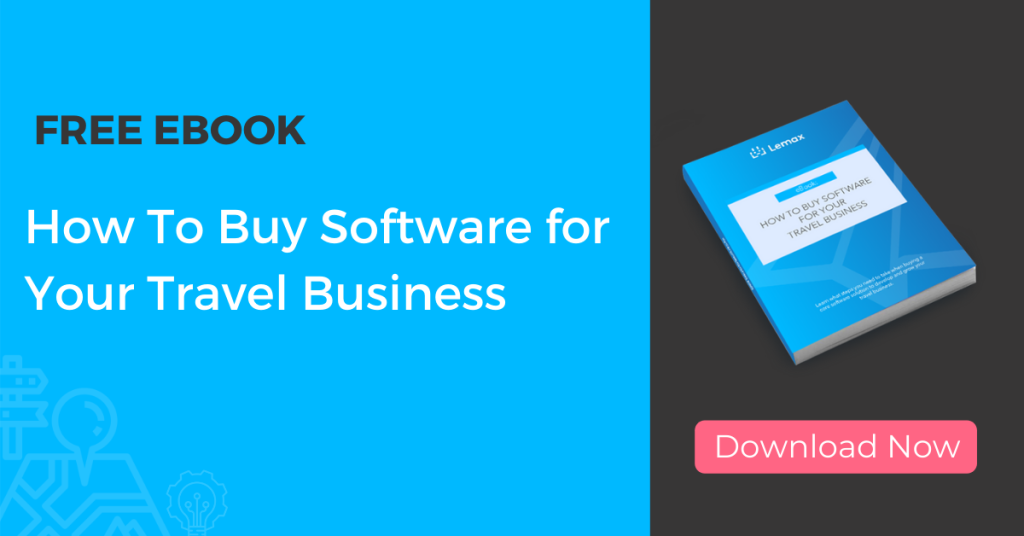 [1] Source: Consultancy.org
[2] https://www.unwto.org/more-than-50-of-global-destinations-are-easing-travel-restrictions-but-caution-remains