In March 2020 when the pandemic peaked globally, the tourism staff unfortunately either lost their jobs or were put on furlough in most of the countries around the globe. And as soon as they got a chance, workers found new jobs, mostly outside of the tourism industry, aiming for a less risky sector during the unpredictable and very much travel-restrictive times.
A huge shortage of staff turned out to be the biggest barrier tourism companies around the globe are facing in 2021, and the biggest long-term threat to the hospitality and tourism industry development. Lemax brought up this topic at this year's WTM in London and intrigued many travel companies who are keen to adopt new technology in order to grow their business in 2021 and onward.
Customers Behavior and Expectations Changed
Even though traveling is getting back to normal and bookings have started growing rapidly in 2021 vs 2020, most of the tourism companies are struggling, as they have no workers to focus on delivering the best experience to their customers.
On the other side, customers' expectations and needs have also changed. We wrote about the new travel trends in our blog earlier this year, and there's more to it:
"Unlike in previous crises, where travelers' spending power was weakened, this one has irrevocably changed consumer behavior, decision-making processes, and values. Digital technologies have entered all aspects of everyday life, from researching, collaborating, ordering, and purchasing whatever is needed. These new habits will become necessary for travel companies as well", said Iva Vodopija, head of Sales Operations in Lemax for Netokracija earlier this month.
Digital Transformation: Travel Industry Well Behind Others
The overall trend for digital transformation is slow, and the changes in the travel industry are not developing at the same pace as in most industries, like the banking industry or telecom.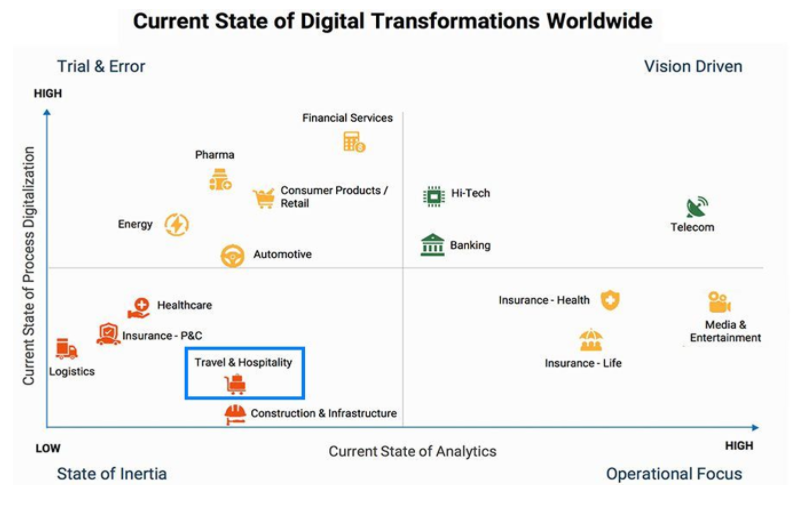 From our experience of talking and working with all kinds of Travel Agencies, Tour Operators, and Destination Management Companies worldwide, there are two main reasons for this:
Tourism is a people business. Strong people relationships are present in all directions, relationships with suppliers, employees, customers. It is a strength of industry and at the same time it is an obstacle for mindset change.
There was never enough time to focus on business processes. Before the pandemic, the travel industry was the second-fastest-growing sector in the world. In this fast growing market where demand exceeds supply, there was never enough time to focus on business processes. Some quick wins and smaller adjustments were made on a daily basis, hiring more people was a logical option to cover all administration and back-office tasks.
According to the recent Arival survey, 33% of surveyed tour operators don't use any kind of digital solution for their operations, while 25% have some custom legacy system developed 10-20 years ago. Those legacy systems are outdated and the majority of them cannot be upgraded to fulfill current requirements.
Irrevocable Effects of the Pandemic
So, while the world keeps moving forward, together with technology, the travel industry needs to keep in step. Besides that, these past two years have introduced a lot of changes and there are some strong effects of the pandemic on the travel trends:
The pandemic has truly changed consumer behavior, decision-making processes, and values. Travelers expect an on-demand and personalized service with seamless communication through online channels. We live in a customer-centric world and we need to meet our customers where they are, and serve them in the most intuitive manner possible.
Online channel presence, seamless booking process, dynamic packages, or flexible cancellation policies are just some examples that are on the agenda right now, and all of those imply flexible and adaptable business processes and backbone that can support all of the mentioned as well as the upcoming changes.
Our team elaborated on this topic at an event we hosted at the World Travel Market in London in November 2021. It came as no surprise that many Tour operators, Travel agents and DMCs who gathered at the event could very much relate.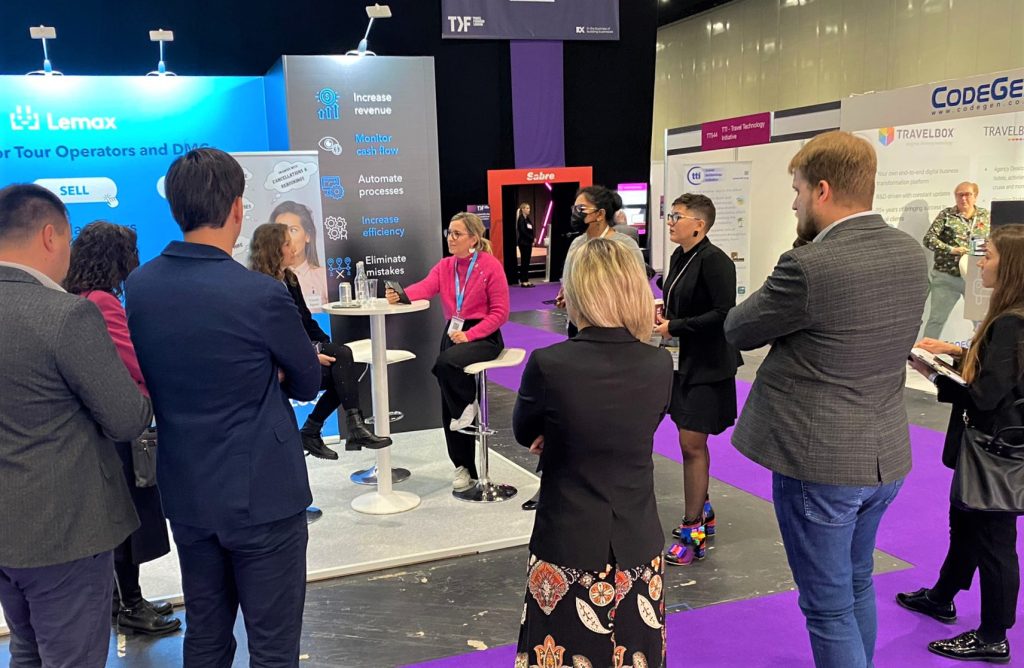 How Can Technology Help?
Finally, we showcased how exactly adopting new technology such as Lemax software can tackle the issues travel companies are facing at the moment.
It takes two hours on average for a travel agent to issue a quotation to a customer. That means that one agent can daily produce only up to 3,5 quotations, while there are some easily automated repetitive steps in this process where technology can step in.
With different resource allocation, travel companies could focus more on the 'next generation of travelers' by automating repetitive work and freeing up their time to be focused on the customer and customer experience.
One of Lemax's customers from New Zealand managed to increase the number of bookings during the pandemic with a fast reaction to new market changes by focusing on domestic travel although they were mainly inbound before pandemic, and introducing online as a sales channel.
How Does Adopting New Technology Look Like in Day-to-day Work?
Lemax is covering the end-to-end business process of our clients – from building up the product, selling product by communicating it with customers in every step of the booking lifecycle (from inquiry to invoicing) as well as communicating with suppliers before and after customer travel.
Back and forth communication with customers on one side and suppliers on the other side, pen and paper processes, many supporting spreadsheets and files, and tons of potential mistakes in process… All of this could easily be quantified and measured and this is exactly how we are approaching our client in the sales process. Assessing customers' current process, replicating it in Lemax software, and measuring before and after in concrete metrics such as time per quotation, win rate, number of changes and mistakes.
A proper technology strategy helps the organization focus on their key business with technology acting as a business enabler and not a problem child.