Lemax is a creator of software for tour operators and DMCs, providing a complete innovative solution to transform your processes; create, sell, and operate multi-day tours. With Lemax you can automate the entire workflow with suppliers, partners, and travelers to speed up sales and booking journeys. As a result, you improve efficiency, boost business results, and deliver better experiences to your partners and travelers.
We are committed to ensuring that every user has a great experience using our platform. After months of hard work, we are happy to announce Lemax 5 – an exciting summary of product updates that we enabled for our clients, and show you what you get with Lemax 5 if you decide to use it!
On top of all the features which were significantly updated during the last months to become even richer in functionality, more secure, and smarter, we added new ones and redesigned the user interface from the ground up! Here is an overview of what you get with Lemax 5.
Completely New Design for Enhanced Experience
We have completely redesigned the user interface from the ground up to provide you with an enhanced and refreshing experience of using Lemax on top of all functionalities that help you in your everyday business processes. Pleasant to the eye for everyday use and in line with the latest software trends, Lemax 5 will bring a refreshing experience of using the platform.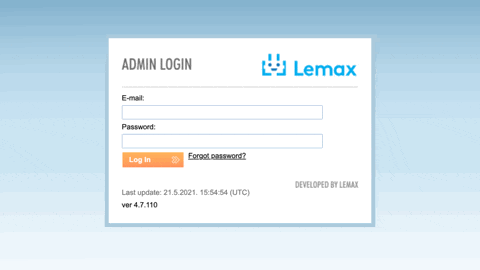 A lot of research and work went into this launch to make the platform more enjoyable to use.
New colors and typography are pleasant for everyday use with important things pointed out for simple navigation and to speed up your workflow. 
Uncluttered workspace across the entire application with updated forms, icons, buttons, navigation, pop-ups, and all other elements.
New improved flows of using the interface for better experience.
Redesigned dashboard and more readable charts and reports.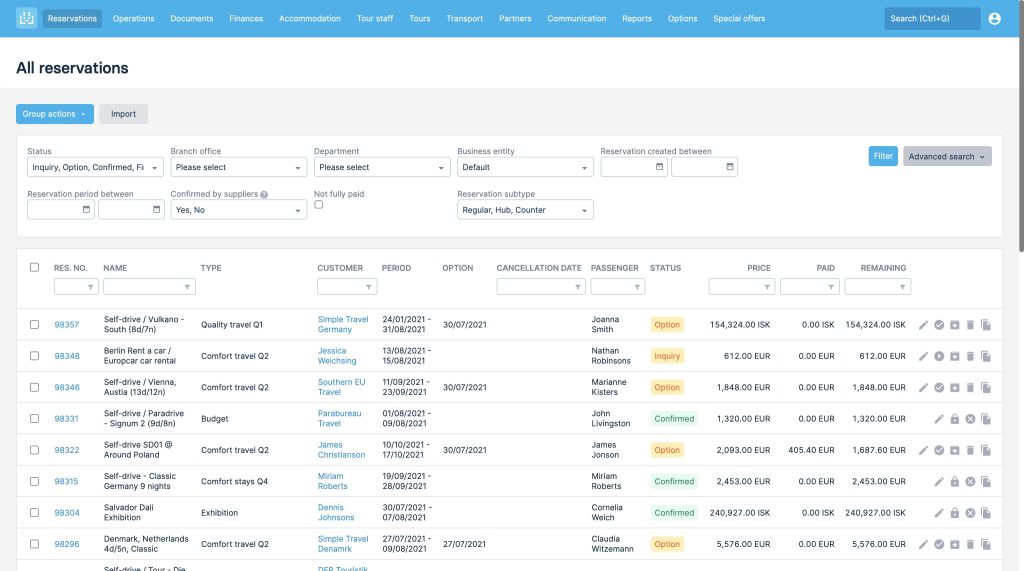 Lemax 5: Workflow Automation with Clients and Suppliers
Speed up the booking journey by automating your travel business processes with smart triggered actions. Lemax automates the business processes around the lifecycle of a booking, without user interaction, in order to decrease manual repetitive work, ensure accuracy, and increase efficiency.
Everything happens in the background, with no manual work!
Here is an overview of what Lemax can automate for you:
Trigger notifications for internal users – get speed, accuracy and better collaboration
Supplier communication – ask for availability and get confirmations
Customer communication – confirm availability, automatically share documentation such as invoices, vouchers and itineraries
Generate standardized documentation – automatic offer, voucher and itinerary creation with all CMS data from the system
Send payment reminders to customers to get paid faster and improve cash flow
With automation, you get speed, a standardized process, standardized documentation, no mistakes, thus providing a better experience to customers, and becoming a better partner to suppliers.
Central Place for Contracting – Unified Travel Product Inventory
Lemax offers centralized live travel inventory management. Unify your products such as accommodation, flights, transfers, and tours all in one platform and take advantage of faster bookings!
With this crucial part of the platform, you are eliminating spreadsheets, multiple data sources, manual calculations, and mistakes. We worked a lot on it to make it even better so now contract upload flows are bringing a better user experience. Avoid duplicates and load all contract data once – prices, discounts, special offers, availability, cancellations, and payment policies. Improve control over supplier contracts and how they are organized on a property/product level.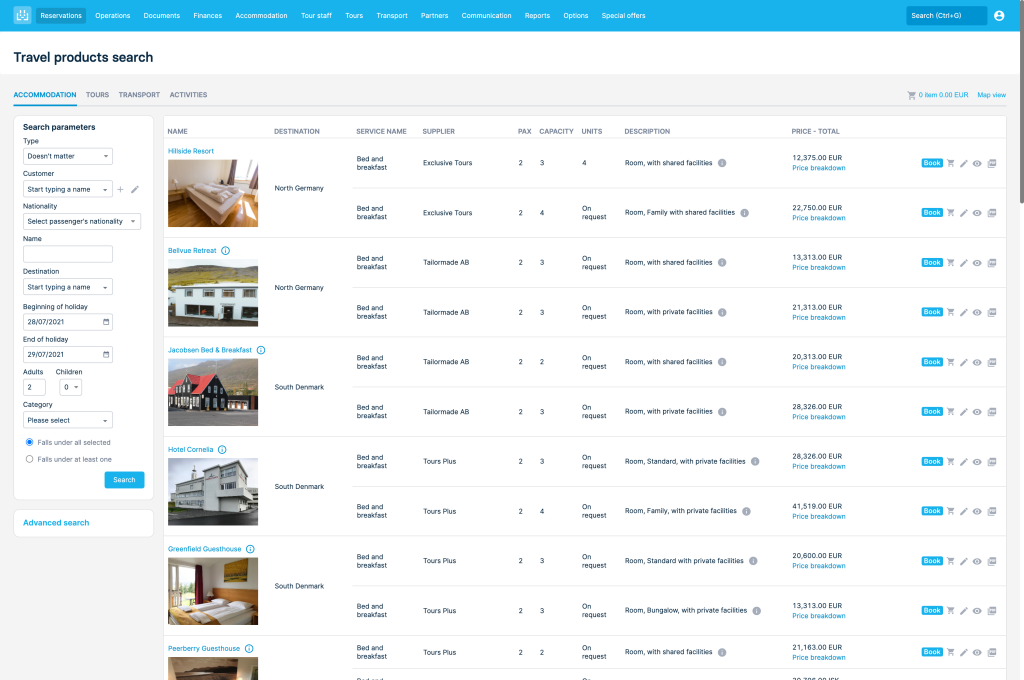 Package Builder – Create Profitable Tours Effortlessly
We are aware of how complex it is to build tour packages, handle calculations, contract details, and in the end, ensure their profitability. After numerous talks to our prospects and customers, we created the Lemax package builder to help you effortlessly create, publish, sell, and deliver unique tour packages.
Lemax Package Builder allows a tour operator to build custom multi-day tours, with a number of services from different suppliers included in one package prepared for the customer to book. Unified product inventory allows you to quickly search and creatively combine components. Create tailor-made and prepackaged tours with complex calculations done by the system. You can build tour packages for groups and individuals. Once the package is ready, you can create or update itineraries based on the components you used (hotels, transfers, activities, etc.) and prepare tours for sales. You can even copy package components from other tours or excursions for faster package building. 
With additional add-ons, such as new Transfer and Excursion packages, you can do even more. Create transfer packages including drivers, vehicles, guides, toll fees, etc., and create single-day excursion packages including activities, food and beverage, entrance fees, guides, etc. Pre-package the excursions with all components necessary for proper service and total cost control (activities, food & beverage, entrance fees, guides, etc.) and use all of that as parts of your other tours.
Calculate the true cost of packages per different room type, the number of passengers, apply margin and forecast true profit.
Improved operational efficiency reduces costly mistakes. The package builder enhances your teams' creativity and excellence to create unique products for your customers.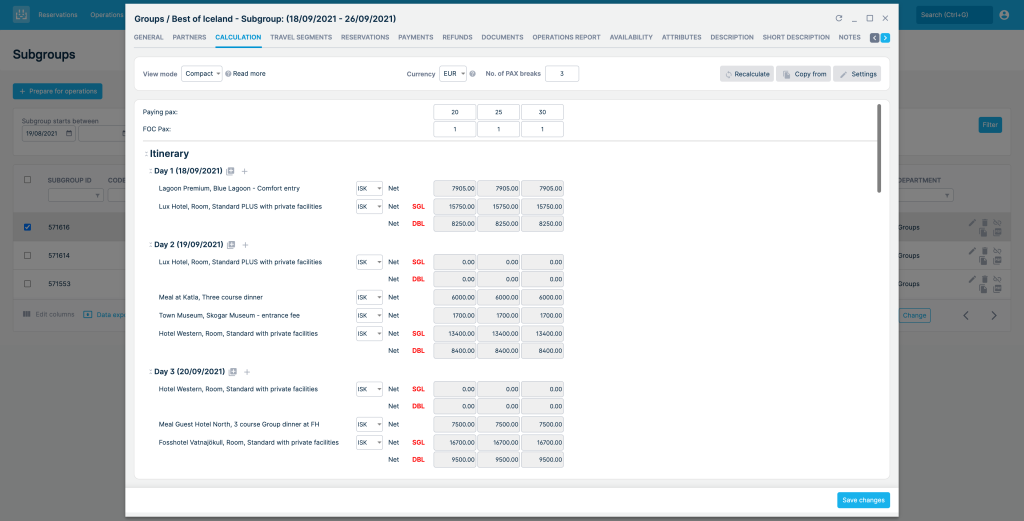 Operations – Deliver Amazing Partner and Travel Experiences
On top of automating service ordering towards suppliers, with Lemax Operations you make sure that service is delivered as promised. Lemax lets you easily manage the ordering process, track inventory, centralize communication with suppliers, assign drivers and guides and create rooming, transfer, flight, and bus lists.
We mentioned the Package Builder before. To help you plan and manage the supplier side of packages, we created this advanced set of specific operations capabilities. You can manage all services, guides, vehicles, passengers, and supporting documents for multiple different packages together to optimize cost, increase revenue, and increase customer satisfaction.  
Maintaining profitability is key with package management. Lemax advanced operations use the operational cost metric to help users achieve it. Operational cost is calculated per passenger and it represents the real cost of all services that the passenger is using within the package. Operational cost is automatically updated with each new booking. This is because with each new passenger the cost of shared services (like the guide or transfer) is reduced per passenger. This metric enables better cost tracking and financial reporting.
Communicating with suppliers on a daily basis and keeping a good professional relationship with them is one of the main jobs of every operations manager. All services from multiple packages can be organized into the same operational reservation per supplier. From that one reservation, you can send supplier inquiries for some or all services, send supplier confirmations, and documentation. Supplier invoices can be attached to the reservation and connected to individual services so that due amounts can be easily tracked. All communication with the supplier is kept on the same reservation so no information is lost.
There is More – Get More Control and Efficiency with Lemax 5
Multiple business entities in one system – Lemax allows agencies to have overview of reports on a corporate level, all while maintaining separation of data between entities (e.g. subsidiaries in different countries). A business entity can have multiple branch offices and each branch office has exactly one business entity defined. Managers can easily see reports related to the whole company, without the need to consolidate data from each business entity.
Pricing policy lets users define different product pricing strategies for different distribution channels. Flexible pricing strategies can be defined by partner, product, destination, or many other custom attributes. Fine tune your margin and commission rules to maximize profit or to minimize loss. Which usually happens because of wide range of products in the portfolio with different pricing strategies, or because of working with a wide range of partners across several segments, being present on multiple markets with the same product portfolio.
Sometimes agencies have different payment terms for different partners and different products. Or payment terms can depend on the total price of the booking. Sometimes the same payment terms will be applied, no matter the customer or the product. All of those cases are covered with the customer payment rules. Improve customer/travel agent relation by being able to give them specific payment terms. You get security for the agency to charge the correct amount for specific services or depending on the total booking amount. Reduce the risk of financial losses.
Commercial exchange rates are used as a predictive exchange rate. They are commonly used for creating a price buffer for the reservations. They're also used for protection purposes against potential financial losses due to the fluctuations in the exchange rates.
Book Hotelbeds inventory directly from the Lemax interface without logging into the Hotelbeds system. Save time, and avoid additional training for their system. Increase your inventory portfolio with 100 000+ properties thus increasing your sales capabilities.
Credit limit – reduce risks by limiting the amount of money each travel agent can spend without making a payment. The credit limit can be created for an unlimited or limited date period. It can also have an unlimited or exact amount set.
Get in Touch and Learn More About Lemax 5
With more than 120 customers globally and 20+ years in the market, we're leading the innovation and changing the way travel companies do their business. We enable our clients to focus more on their customers, and less on administrative work and processes.
More than tech! We are our clients' partners – supporting them with tourism expertise, implementation, and training services to help them achieve their desired goals with us.
If you would like to learn more, talk to our experts and see how your business can benefit from implementing Lemax.
Want to learn how to improve efficiency and increase revenue?
Get in touch and transform your travel business