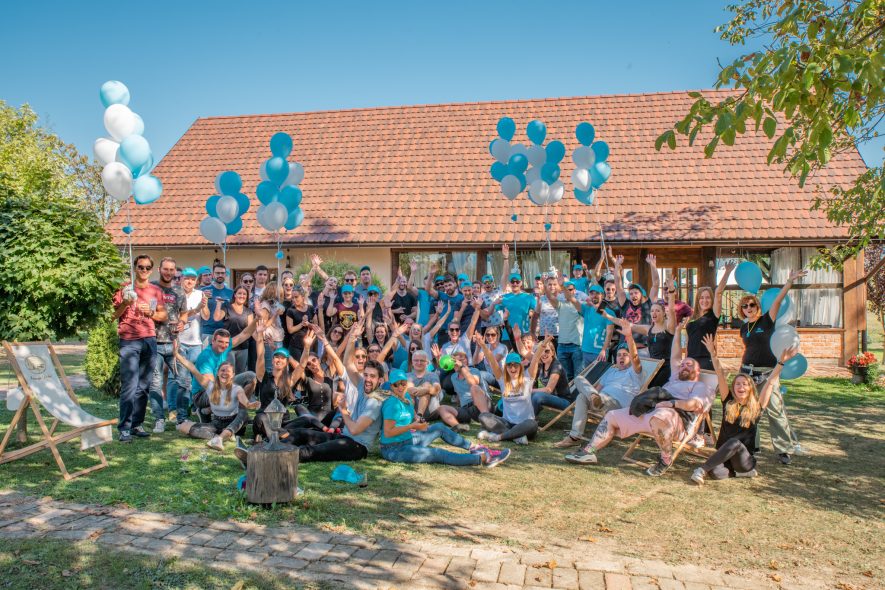 Hi, we are Engineers from Lemax! We are looking for experienced Developers and QA Engineers to join our teams.
Get to know us a bit more, and if this sounds interesting to you – let's have a talk! 
---
How does it look like on the inside: 
All devs do a full-stack

although we do more work on the backend than on the frontend. 

We're divided in 3 teams:

1 – Core platform team – in charge of innovative development using the newest technologies; working on the technical evolution of our platform. 

2 – New features team – in charge of building new features on our existing platform that's been evolving over the past 10 years. Primary development is being done on the old tech stack, although we are slowly introducing new technologies and ALWAYS insisting on good coding practices. 

3 – Platform stability team – in charge of resolving incidents and problems detected on our platform by finding and tackling core sources of problems. 

Identifying and tackling problems and suggesting ways to solve them is part of our daily lives.

But we are not alone in that. We have the opportunity to work with top architects that have a clear vision of what Lemax should look like and how it should be built. And with top developers who are always looking at how to improve and write code in the best possible way. And we work together, "side by side" with each other and learn from each other together. 

Seeing how a diagram of system architecture evolves with each iteration of delivery, bit by bit, is invaluable.

Learning to be pragmatic, to weigh when to strive for modernization, and when to do the best with what you have is also a skill that is honed at Lemax and with which we get better every day. 
Tourism is a large and growing industry that still does not have a top software product. That's why Lemax has a great opportunity to grab that position. 

QA Engineers in Lemax have the potential to make a big impact. He/she is not just a tester that ultimately determines if something can be released or not. Through QA's continuous work, he/she instructs the rest of the team on current product quality and potential risks.

We consider the QA Engineers roles at Lemax to be a crucial part of development.
What we offer:
The atmosphere and interpersonal relationships are some of Lemax's strongest assets.

Teams help each other at every turn, and more experienced colleagues are always ready to help those with less knowledge. 

What your career path will look like, mostly depends on you. Just in the past 6 months,

10% of our employees got promoted!

If you have the desire and work habits to acquire new skills and knowledge and respond to arising challenges and opportunities to show what you can do, then you will certainly be rewarded for it.

We nurture

internal knowledge exchange of technical topics.

We also have an office library, and a full-time Learning & Development expert organizing various soft skills workshops.. And let's not forget –

Tech rally

occurring on a monthly basis! 

Given the current situation with the health measures, we try to adapt to the situation as much as possible and ensure that everyone feels safe and cared for. A lot of people work from home. Those who want to come to the office do so in shifts to reduce the number of people in the same space. 

Some of the other

benefits

we'd like to emphasize include: a day off for parents of first-graders, a baby bonus, various initiatives such as subsidized Multisport, organized gatherings, and sports groups. Then, fully paid sick leave, flexible work hours, the possibility of getting a better credit rate when taking a loan, payments to the third pension pillar, etc. 

Things like fruit, coffee, and tea we don't need to point out as benefits – we consider them office kitchen essentials.
Important to us: 
Just as you will be able to rely on us, we expect you to be responsible, reliable and that if you get stuck anywhere you will not hesitate to ask for help.

Knowing when to ask for help and say that you don't understand something – we consider it a virtue.

We will ask you to

warn us if you notice any practice that could be better and we will listen to you

. In this way, we grow both as individuals and as a department, and our product grows as well.

While we want you to say openly if you see something could be done in a better way, we also want you to develop

pragmatism

and patience. This means knowing when to advocate for modernization and when to do your best with what we have and to be aware that some changes will not happen overnight. The modernization of technologies is a means to an end, not an end in itself.

Continuous learning and development

are expected from all Devs. Specifically, in development and QA, the greatest importance is not in knowing any specific technology (although it is a very important factor). In order to grow as a Software Engineers at Lemax, it is more important to have many skills. Some of the skills are the ability to

break complex problems into smaller ones

that are relatively easy to resolve, the ability to assess the complexity and risk of development, the ability to delegate some work to junior colleagues, the ability to

mentor and teach others

, understanding the scope and impact that every change brings with it. The tool and technology is learned in a couple of weeks – these skills develop over the years. 
---
If you'd like to find out more about what it's like to work in Engineering team – or apply right away – check out our >>
open positions.