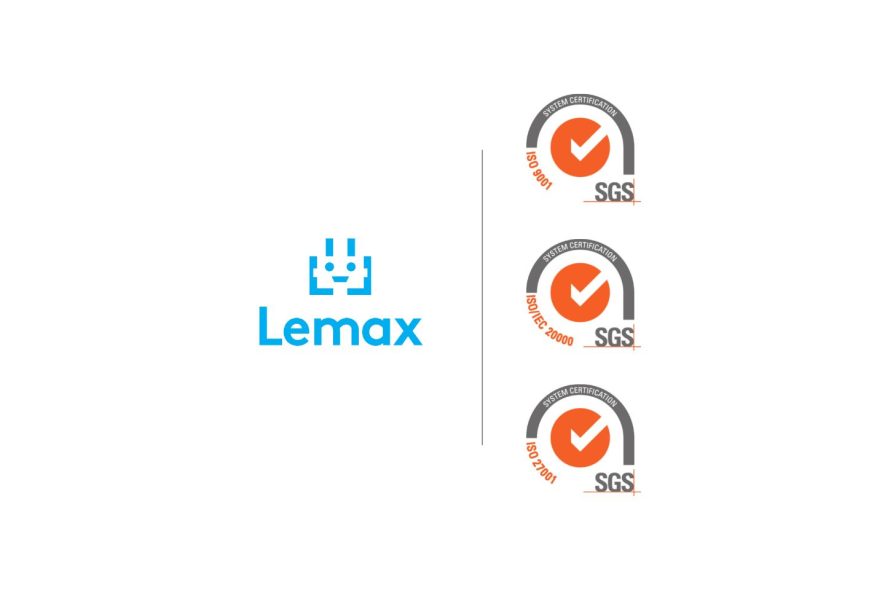 ISO certifications state that a management system, manufacturing process, service, or documentation procedure has all the requirements for standardization and quality assurance. ISO, the International Organization for Standardization, is an independent, non-governmental, international organization that brings together experts to share knowledge and develop market-relevant International Standards that provide solutions to global challenges and support innovation.
Lemax, as a travel technology company, constantly strives to bring innovation to help travel companies face any challenges they might encounter. Also, we pay close attention to details. It is of utmost importance to us to maintain a high level of quality and safety in all aspects of our work. 
With great pleasure, we announce that we have three active ISO certifications (namely, ISO 20000, ISO 27001, and ISO 9001:2015), as well as the recent renewal of ISO 9001:2015.
ISO 20000 – The international ITSM (IT service management) standard makes it possible for IT departments to ensure that their ITSM procedures align with business requirements and global best practices. 
ISO 20000 benefits us by 
improving client satisfaction due to improved service,

increasing operational simplicity due to more standardized service delivery,

increasing efficiency resulting in lower operational expenses.
ISO 27001 – ISO 27001 is a specification for an information security management system, formerly known as ISO/IEC 27001:2005 (ISMS). An organization's information risk management procedures are governed by an ISMS, a set of policies and guidelines covering all physical, technical, and legal controls. 
ISO 27001 makes sure that the entire organization is protected by: 
boosting resistance against cyberattacks,

reacting to alterations in security threats,

cutting back on investment and defense technology that is ineffective,

establishing a framework that is centrally controlled and secures all data in one location,

safeguarding the availability, confidentiality, and integrity of data.
The best-known quality management standard worldwide for businesses of all sizes is the ISO 9000 family. To operate your business with common sense and continuously satisfy consumers and other stakeholders, ISO 9001 offers a framework and set of principles. ISO 9001 certification lays the groundwork for effective systems that consistently deliver an effective product or service. 
ISO 9001:2015 helps with the following: 
giving the business a competitive advantage on a local, regional, and international level,

enabling the identification of improvement areas,

establishing corrective and preventative measures as a corporate culture for ongoing process improvement,

promoting customer-focused employment,

boosting the economy, efficiency, and profitability,

improving communication,

offering protection against financial and other damages caused by issues with quality or poor quality,

enabling traceability,

decreasing expenses while increasing product/service reliability,

boosting employee engagement and improving process effectiveness by gaining access to the process,

helping you with risk management,

improving stakeholder relationships,

enhancing the company's brand and reputation.
At Lemax, we are well aware that the success of a company depends on maintaining quality at all times. Quality encompasses the finished products and all the systems and procedures that go into creating them. We strive to place a heavy emphasis on our continual improvement to satisfy the expectations of our clients and partners and therefore are genuinely proud of these certifications that reflect our efforts.