We've written on how the Travel industry is becoming more and more complex. New technologies have shaped numerous industries, but the travel industry is still in a state of inertia on a digital transformation map.
Where do you stand in the digitalization transformation map?
Not sure what's the answer to this question? We've compiled a list of 10 steps that Tour operators and DMCs need to go through to move forward in the digital transformation. Read through the digital transformation steps below, answer the questions with a YES or NO, and find your results at the end!
1. Centralized database
Our company has all our products, customers, suppliers, and contracts centrally stored and managed in one platform. We can smoothly use rich information about travel products for client documents, manage complex price lists, calculations, cancellation rules, and promos. We can easily enter available inventory into the system and stay on track with allocations.
2. Digital product catalog
We have powerful product catalog searches with pricing options and special offers, calculations with automatic and instant discounts policies applications without manual work, costly errors, and duplicated data entry.
3. Automated booking lifecycle
From customer inquiry to realization, my teams can run automated processes towards customers and suppliers. We've automated sending inquiries to suppliers, quotes and itineraries to customers. Managing bookings and cancelations is fairly easy and we have all communication history centralized in one place available to multiple users in order to secure business continuity.
4. Premium customer experience
We're delighting our customers with premium support with fast responses, relevant information, travel tips, and relevant additional offers. We save all our customer data and create personalized offers with beautiful and detailed, automatically generated itineraries.
5. Online
We showcase our offer and availability for travelers or travel agents on our B2B or B2C website. Our users can check photos, prices, descriptions, and special offers of travel products. We enable them to log in to the B2B/B2C portal to check purchases and payment history, download needed documents, amend or cancel reservations.
6. Enhanced operations
With process automation, our teams can easily manage the ordering process, track inventory, centralize communication with suppliers, assign drivers and guides and create rooming, transfer, flight, and bus lists. We triggered the creation of customer invoices with included payment links and instructions, we verify supplier invoices, track online and offline payments, manage exchange rates and improve cash flow.
7. Insights
We make informed decisions with streamlined insights into sales, marketing, products, suppliers, customers, and employees. We understand the profitability of complex travel products like tours, groups or packages and gain an understanding of business outcomes.
8. Customer care
We nurture our customers by sending travel info and receive customer feedback, we've automated the resale process, and we use a centralized overview of customers for better targeting.
9. Data Integration
We've Integrated the data from different sources, like multiple suppliers such as HotelBeds, HotelsPro, RoomsXML, and a direct flight booking integration, to enhance our inventory management and create better offers.
10. Technical reliability
We're enjoying the security and reliability of a web-hosted platform, for which we don't have to worry about maintenance, development, upgrade, patches, new versions, in any way. We rely on a trusted partner and focus on providing our travelers with the best experience.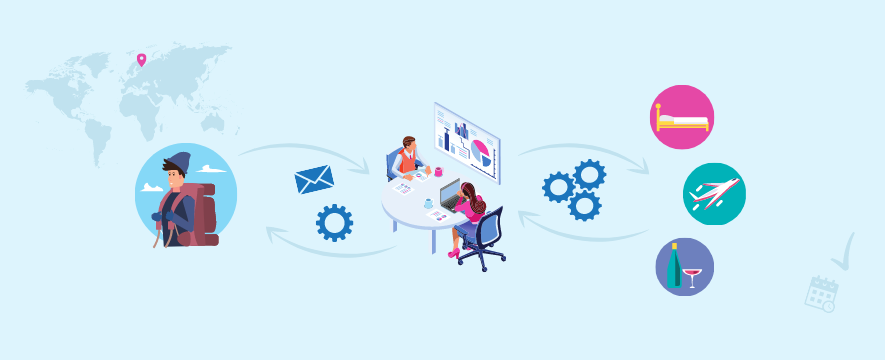 The results
The results that we'll list below were defined based on our customers' processes and their experience before and after implementing Lemax.
1-5 Manual
Your processes are mostly manual. You copy-paste information from the contracts, spreadsheets. You're prone to costly mistakes and the process itself takes longer than it should.
6-8 Emerging
You've covered parts of your process with different solutions, but the process is still not streamlined, mistakes are happening and, although it is more efficient, the process still takes longer than it should for one booking, especially when the traveler requests a change
9-10 Fully integrated
Your process is fully integrated, you've realized the importance of digital transformation early on.
Want to find out more about your journey to digital transformation?