The travel trade industry has become more and more complicated over the years. There are so many steps that need to be taken to organize just one trip. With years of experience in the travel technology industry, we talked to numerous prospects and clients about the amount of time and effort it takes for the traveler to get their experience and return home happy, recommending your services further.
Travel & Hospitality Industry in the State of Inertia
New technologies rapidly shaped different industries, but the travel industry is still in a state of inertia on the digital transformation map.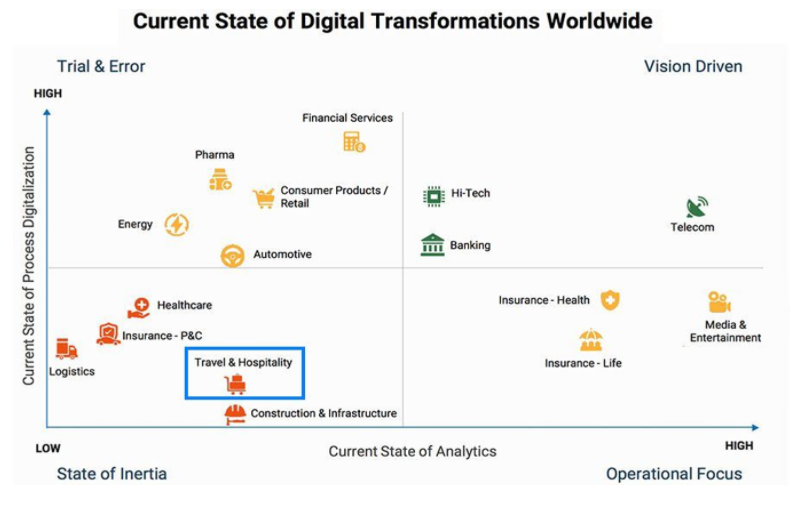 In 2020, this gap became even more troubling, and the importance of digital transformation and digitalization, to begin with, is becoming more and more visible. Although this all sounds like a no-brainer, we've compiled a list of five reasons why you, as a CEO or a founder of a Tour Operator, should consider digitalization as your top priority.
Travelers Expect On-Demand
We've seen the rise of online booking in the last few years. OTAs have shaken up the market, and travel agents became a commodity, not a necessity. Their presence, combined with new generations on the rise – the digital-first generations – increased the need to reimagine how tour operators work today.
On the other hand, our recent research shows that, after the Covid-19 pandemic, the tour operator services are in demand again! With that said, tour operators need to bring the new trends of "on-demand services" together with the one thing that differentiates them from the OTAs – the ability to create an unforgettable experience.
Improve customer experience
Imagine knowing that your returning traveler wants a room on a higher floor or that they enjoy sightseeing or museums before they tell you that? These kinds of things were traditionally associated with luxury travel, but it becomes an expectation for all types of travel. With digital solutions, you can track these details and differentiate yourself from others. And, differentiation means more customers, which in turn means more revenue.
Increase Efficiency
It's hard to talk about efficiency at a time where you have people waiting to work, period. Although many companies do not have the efficiency issue right now, it's not an uncommon thing for travel companies to struggle with the amount of time and people power they need to operate their business. Having the right solution streamlines your workflow and improves productivity and efficiency. Automating manual tasks and integrating data throughout the organization allows your people to be more efficient and focus on delivering the experience, not calculating the price or retyping contracts.
Increase Revenue
You need to be where your (future) customers are. And that's digital space. 2020 and 2021 thus far have migrated many businesses online. Brick and mortar stores, although sometimes still necessary, are slowly becoming an exception, and a good website where customers can book your products is a rule. Without digital processes behind a website presence, you're unable to provide the experience people come to you for, and you're losing opportunities and revenue.
Don't lose relevance.
If you're not digitalizing, you can be sure your competitors are. Without a digital presence, with the shift of generations, you're on the road to becoming irrelevant in the customers' eyes.
Understand Your Business Performance and Minimize Mistakes
Now, more than ever, you need to know what works and what does not. Are you selling products that you're not earning any money from? It's essential to focus on the 20-30% of your top-performing products and stop losing money on the lower-performing ones.
Having an overview of your cash flow, of all unpaid services from both your and your customer's side is a must to run your business smoothly and scale the business further.
Still not convinced?
The digitalization awareness and transformation need to come from the C-suite, with the CEO as the movement leader. Investing in travel technology may be just one, but it is certainly a big chunk of the transformation. With the change of the processes, we need to transform the mindset of people – and leading by example is crucial here.
Additionally, the question "Should I invest in digitalization?" has only one possible answer – YES! Any other answer means your company won't evolve and adjust to the new market situation. The difference between a YES and a NO is a difference between stagnation and growth.
Digitalization of your processes can position you to survive in this new world. It helps you move forward, allowing you to be innovative and provide a truly fantastic experience to your customers – the one thing that differentiates you from your competitors.