Did you know that a live chat on your website can help you increase your website conversion rate and thus increase your travel agency sales?
As a travel agency or a tour operator that sells travel products directly on your retail website, you probably spend a significant amount of time and money to get your website visitors. Even if you don't utilize paid marketing, each visitor you get on your website is somehow paid. You pay to have your website, you pay your employees or agency to write blog posts and to run your social media profiles, you pay for that www sticker on your car.
You've got the idea. The visitors you have to your travel website cost you money, and the role of your website is to convert those visitors into paying customers as much as possible.
Live Chat as a Tool to Convert Your Visitors Into Buyers
But sometimes, or always, there is a big segment of your website traffic that the website alone is not successful for selling your travel products to.
It doesn't matter if those visitors are not yet ready to buy, if they are stuck on some part of your website (hopefully not in the middle of your shopping cart!), or if they need an answer your website isn't providing to them. In all such cases, they need (your) help right now. If they don't get it, your competition is just a few clicks away, and your visitor will become a paying customer somewhere else.
Because prospective buyers don't always know exactly what to do, don't let them leave without a purchase. Instead, use live chat to engage them; ask them what they're looking for, educate them about your products, and/or prompt them into a sale.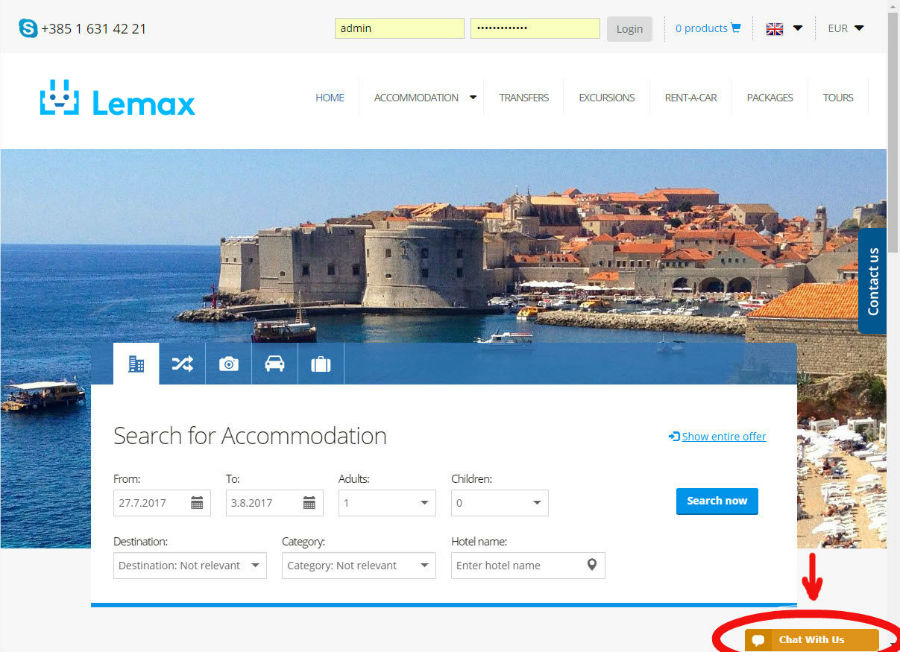 Live chat button example from our Lemax B2C demo website, source: presentationweb.lemax.net
Live chat is not only useful for B2C oriented businesses. For example, we are a B2B company that is helping travel agencies and tour operators to automate their business and increase sales by using our travel agency management software called Lemax. When visitors are browsing our website, we have a live chat in place that helps them to instantly ask any questions they have about our software.
Some of the benefits of this include:
increased trust in our company by letting visitors get to know us without forcing them to commit to any obligation with us
increased number of leads: increased trust + being there for them
increased quality of our website: the questions we get asked are the questions that our landing pages don't answer. By hearing these questions, we can improve them.
increased quality of our product: we are sometimes asked for features that our software does not have, so we pass that information on to our product development team.
Why am I mentioning this? Because if your travel company sells to other businesses and you have an online B2B travel portal where your partners are buying from you, you can still enjoy the benefits of using live chat, such as instant online support for your partner's employees while they are choosing and ordering your products.
Live Chat Has a Very Positive Impact on Travel Business
Although live chat was at first used to increase the level of service companies provided to their existing customers, it turned out that it's not just the existing customers who need answers fast. It is new website visitors who need your help even more.
There is a lot of research that backs up this claim. When 83% of online shoppers need support to complete a purchase, it's important to consider proactive customer engagement on your website.
Today's customers also expect to receive answers quickly. According to LivePerson's report, 71% expect some assistance within five minutes! This means that most customers prefer to chat over email. Why wait for a response via email when a question can be answered within minutes on live chat?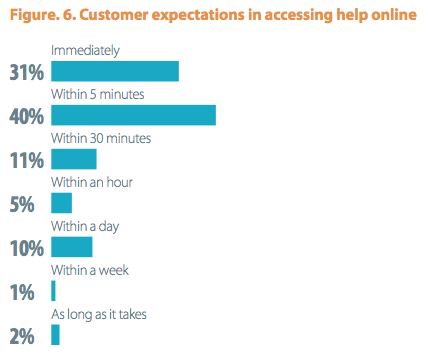 source: LivePerson, Inc – Connecting with Consumers report
Zendesk research indicates that live chat is the fastest channel for problem-solving with the shortest total resolution time. Chat is significantly faster than any other method of communication: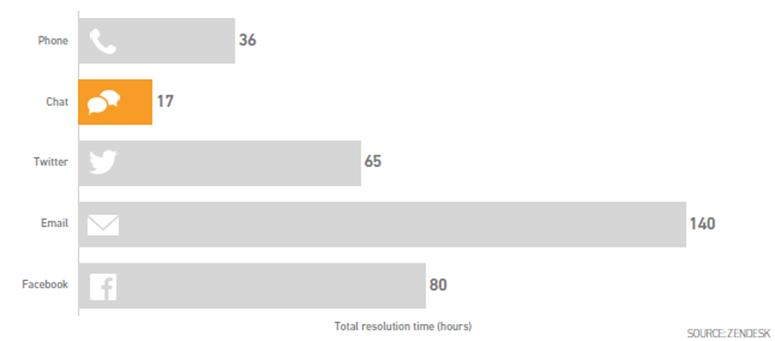 source: Zendesk research
And e-commerce survey from Emarketer.com found that 63% of respondents who engaged in a live chat were more likely to return, while 62% were even more likely to buy.
Live chat even encourages visitors to make a purchase! In Boldchat's research (PDF), it was found that 25% of website visitors are more likely to make a purchase if they see a live chat on a website: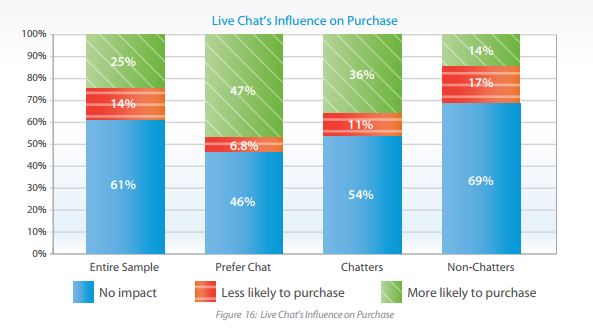 source: Boldchat's Live Chat Effectiveness Research Report
Live chat is the communication tool of today and especially the future because there's a strong correlation between age and the preference for using live chat. The data from Software Advice's survey shows that younger people tend to have even more affinity to use live chat than older generations.
Many other studies have shown that adding a live channel can be effective in increasing conversion rates and reducing the friction in the buying process. With this in mind, you can expect a rise in your website's conversion rates (better conversion rates = more sales!) when you implement live chat.
Increase in Your Travel Website Conversion Rates
Do you know your website's conversion rate?
Let's say you have a retail website selling travel packages. Each month you get about 20,000 visitors to your website and sell about 500 packages. So, your website's overall conversion rate is around 2.5% (500/20.000=0.025). You can use tools such as Google Analytics to find this kind of information.
Implement a live chat solution, and your conversion rate will increase.
Additional Business Benefit from Live Chat
It helps you improve your offer. Now and then, a visitor will ask for some destination or activity that you don't yet have in your inventory. That is a clear indication of what the market needs, and you can adapt your travel product accordingly.
It helps you improve the technical quality of your website. You will receive questions on how to accomplish something on your website, for example, how to fill some form fields in the booking process. If such questions pop-up regularly, this means you have a problem and this issue should be corrected.
It helps you improve the marketing and sales ability of your website. Visitors could have questions about something that you didn't know is missing on your website, or maybe it is buried too deep in the website's structure, or it is not explained well. For example, it is not clear to them how your cancellation policy works. If there was not an answer to their problem, most visitors would just leave. But, with live chat, some of them will find it more convenient to ask you such things. Again, write down the questions, and the ones that repeat are indicators of what should be better explained on your travel website.
And What Do Your Website Visitors Want from Your Live chat?
In business, it is always about them, not us. So keep in mind that such new processes you implement should bring benefits to your customers. This is what today's visitors expect from live chat on websites:
instant answer – if you have a live chat, then you should provide what visitors expect: fast answers to their questions. It is better to close your live chat than not answer your visitors' questions in a timely manner
no commitment – website visitors always have many questions. However, they don't want to create a commitment with an unfamiliar company before they get their answers. A live chat enables them to receive answers without forcing them into a relationship with you. Yet 🙂
So don't ask for too much (if any) data upfront. Your goal is to cut back on the barriers to engagement.
This is how our Lemax live chat widget looks like while we are online and while we are offline: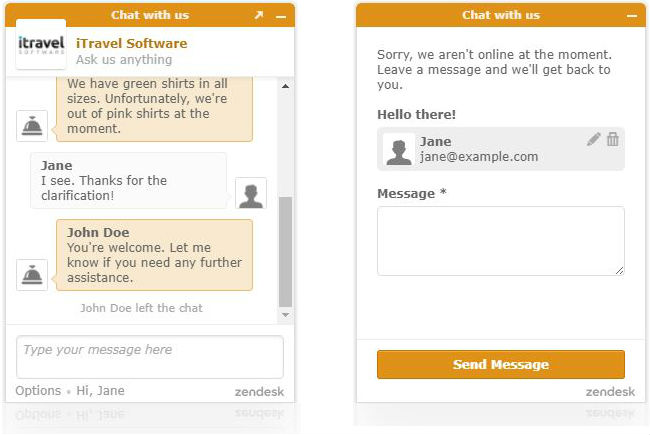 What sort of chat requests might you expect?
Queries about pricing and product information
Queries from existing customers
Chats from prospective customers looking for custom quotes
At the same time, you can expect some irrelevant chat requests. These might be:
Contact from anonymous, and potentially abusive, users
Salespeople
Irrelevant queries, such as people posting test messages
Basic Tips for Using Live Chat
Merely adding a live chat app onto your website is no silver bullet to increase conversions. You need to do it right:
the live chat widget should look good on your website
it should be placed in a meaningful location on your website
it shouldn't be too intrusive
visitor questions should be answered fast
live chat should be active at least while your working hours (have in mind that your website is selling 24 hours/day, so try to cover as many hours as possible)
your agents should be well trained to conduct chat professionally and with your business goals in mind
set up your chat cleverly, to proactively reach the right website visitors at the right moment
Advanced Live Chat Tip
The best tip on increasing your travel website conversions using live chat: be proactive with your chat. What does that mean? In your chat dashboard, you will see your active visitors, the page they're on, and the number of pages they've visited. It is possible to initiate chats with people that seem interesting.
List of active visitors on your website – a view from our chat app dashboard:

But although you can do that manually, there is no need for it. A good chat solution has automatic actions you can configure by yourself, usually called triggers or greetings.
These triggers allow you to proactively and automatically start conversations with your visitors and help them down the buying funnel. Instead of wishfully hoping they make a purchase, you can engage them by using proactive triggers.
A trigger is an automatically set message that appears to your website visitor, and each message is triggered by specific criteria (visitor's time on the website, the number of visits, idle time on shopping cart page, etc.).
For example, if a visitor seems stuck on a particular page, you can proactively reach out and offer help. Or if the visitor is showing above average engagement with your travel products, but she doesn't buy, then your chat could pop-up and ask if there is some problem. Or if the visitor is there for a third time on your website and still didn't buy anything, that is a good opportunity for your chat agents to proactively start a conversation.
Such information about visitor actions on your website are tracked by the live chat app, and you can use it for creating triggers that are meaningful for your business. Additionally, you can see other important data about your visitors, such us:
Referring link: how did the visitor come to your site (e.g. from a search engine or your partner's website)?
Operating system and device: is the visitor viewing your site from a mobile device, tablet, or desktop, and which operating system are they using?
Active or idle: you can find out if the visitor is currently reading your pages or if they are idle.
Time on site: has the visitor just landed onto the website or have they been browsing for some time?
Number of visits: monitor how many times the visitor has been on your site, or if he is a new one.
Number of chats: you can check to see if this is the first chat the visitor has had or if he has been served by your agents before.
Location: the chat app will tell you the city and country the customer is chatting from.
Examples of proactive messages:
Hey! Glad to see you back! Looking to find something specific?

We have a special deal this week. If you purchase any travel package, you get travel insurance for free. Sound interesting?

Need help with choosing the right accommodation for you?

Hello! Need more details about this tour?

Hi! May I help you with your order?
With triggers, you will:
Get more chats
Turn visitors into customers
Increase customer satisfaction
Which all leads to everybusiness' main goal: selling more!
How Much Does The Live Chat Application Cost?
Live chat app pricing ranges from free to enterprise level. Apps that cover all features I wrote about in this article usually cost $10-$30 per agent monthly.
How to Choose the Right Live Chat Provider for Your Travel Business
You can use Google to find a chat solution; there are many of them.
We suggest you focus on ones that have:
no limits in concurrent chats
have some proactive triggers
allow you to control the level of intrusiveness
track and show you your visitor information
chat transferring feature between your agents
file sending feature
offline form when your agents are not available
let you customize your chat widget according to your business' visual identity
mobile friendly
visually appealing
save chat sessions history
provide you with reports
have per agent prices, as we suggested above
How to Implement Live Chat on Your Travel Website
Live chat is a web application that you and your agents will be accessing from your internet browsers. But, in the very beginning, the chat needs to be implemented on your website, and this is done by inserting a certain code into it. Usually, this is a one-time job for your website developers. Preferably, it should be done through your website CMS or by using a container tool such as Google Tag Manager (GTM). In that way, it's easier to install the chat and later maintain it.
We've implemented our live chat app in three steps:
installing the code on our travel software website – we, as software developers, consider that a basic level of technical expertise is needed for that 🙂
configuring the live chat app – after the installation, you need to configure your app. Default settings may be suitable for your company, but it is better to check if you have the features mentioned above in place.
customization of live chat widget – you can change introductory messages and labels for the chat bar. You can change the colors to make your chat widget more appealing to a new visitor. Also, it is good advice to use real photos of your agents and to use their real names.
Final thoughts: Just do it!
In this article, I tried to explain you the benefits of live chat and how it can boost sales for your travel agency business.
It really works and, if it is done right, you should see the difference within a few months after you implement it onto your website. I wish you happy converting and selling!
Please share your insights, critique, and examples via the comment section below. Thank you!
Ready to automate your business?
You're only one click away!