Keeping up with the trends and knowing your customer is crucial for any business. To know your customer is to know their habits and needs. How modern travelers book trips in 2022? What are the most critical elements in determining which tour operator to choose? What matters to them in the process?

With the world at a standstill for almost two years now, everyone is looking forward to traveling freely once more. Restrictions are being lifted, and a more positive atmosphere is undoubtedly in the air. Although two years may not seem like a long time, many things have changed in the travel industry. Some new trends have emerged, and travelers' focus and needs have significantly changed. This transformation has been in the works for quite a while now, with the past 18 months serving merely as a catalyst. And tour operators and destination management companies aren't left with much choice – they must meet the new demand.

Here are the top four things every modern traveler looks for when booking a trip.
Strong online presence, i.e., website
The first thing a modern traveler will do is conduct thorough online research of the desired destination. Every tour operator or DMC's goal is for the customer to find them right away. And that is not possible if a company doesn't have a strong online presence, primarily a website. A vast majority of customers will visit your website before deciding to follow through with the booking. With printed catalogs slowly becoming a part of the past, the website is the most common touchpoint any tour operator has with their target customers. It provides your company with more credibility, builds your brand, gives you a platform to address your travelers directly, and continuously brings new customers.
According to a recent survey conducted by Condor, 90% of people do their holiday research online, while 80% book their travel online. We're talking about really high numbers! Therefore, the web has come to substitute your office and the physical catalogs.
Of course, it is not only essential to have a presence but to make it a good one.
Photos, descriptions, and video content – it's essential to stand out!
Having a user-friendly, clear, and visually attractive web is crucial. Destinations should be clearly listed together with some itineraries to inspire future travelers. There should be short descriptions and authentic photos from trips that will catch the eye.
More and more travelers are turning to Youtube when planning a trip. Therefore, another great thing is having video content showcasing the destinations and travelers enjoying the journey with your team. A really cool segment is a 360° tour of a hotel, resort, or even a part of the destination. Aerial videos became very accessible and more affordable with drones – and the videos they make are of fantastic quality. Instead of filming over-produced promo films, capture authentic content – travelers will appreciate it. Be playful and use your imagination – with the modern technology we have on hand, options are numerous!
Introduce your guides and make them relatable. When travelers are scrolling through your website for the first time, having the opportunity to meet the team that may be accompanying them on their trip instills more trust. Let your staff share their hobbies, favorite destinations, locations, and insights. They are the ones that know the most about each destination; they can share some insights that will attract potential travelers to choose a specific trip. It also gives that personal touch to the otherwise digital experience. And travelers love that!
Oh, and don't forget. Travel is shifting onto mobile. The new generations of travelers expect to have all the information in the palms of their hands. This past year, there has been a significant spike in the number of online bookings done on mobile phones. According to StratosJets, "48% of US smartphone users will use their phones exclusively when planning and researching their trip." So a website optimized for mobile phones is a must in this day and age.
Covid-19 updates, cancelation policy, and reviews
Remember that your travelers might feel insecure about booking a trip with everything that has been happening in the past two years. Don't make them look for information elsewhere. If you have some specific requirements regarding vaccination or covid passports, make sure to make them visible. Moreover, include all the covid-19 updates they might find necessary for the destinations your company offers. It can be very overwhelming and, in the end, result in a traveler not booking a trip if the information is not easily accessible. Save them time and frustrations and build trust.
In light of constant changes in restrictions, another thing that makes travelers feel secure is a flexible cancellation policy. Your cancellation policy must be visible and clearly stated.
That might not seem like much, but it will make travelers want to book with you, and their first contact with the agency will have been a positive one. Together with your expertly designed trip, it will lead to positive reviews. And reviews are another thing that customers tend to look up before booking a trip with a specific tour operator.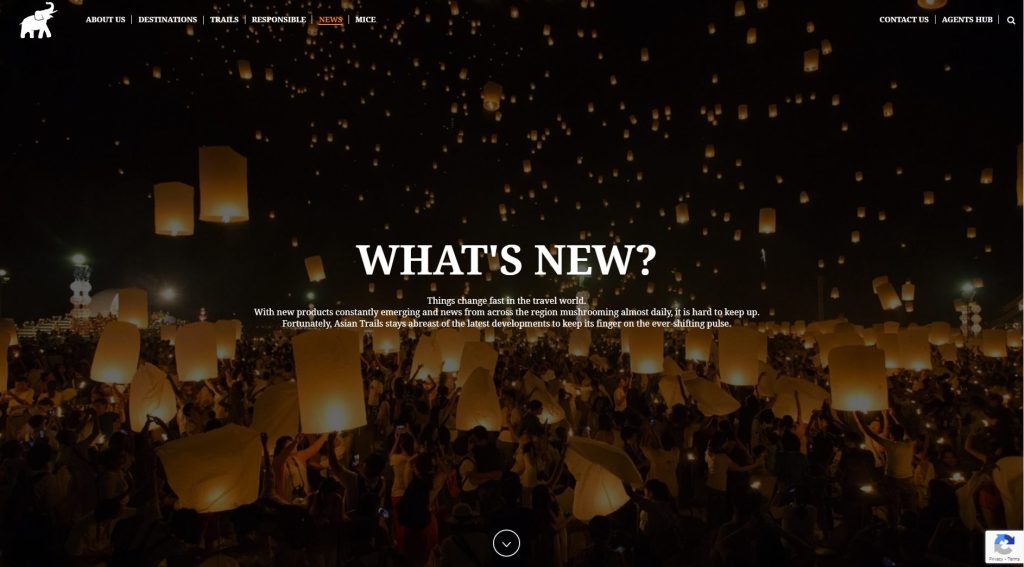 Social media presence – welcome to the 21st century!
Like any other industry in the world, the travel industry cannot survive without being present on social media. Social media platforms are essential for communicating directly with travelers, acquiring new customers, promoting your offer, and, last but not least, advancing Google search results. Viator claims that a survey taken by more than 1400 travelers revealed that 60% of travelers share their experiences on social media during their trips.
Facebook, Youtube, Instagram, and TikTok are the best options for tours and travel businesses. Each offers different formats and targets different demographics.
Facebook is the social media giant. According to Statista's survey conducted in October 2021, Facebook has more than 2.89 billion monthly active users. It offers posting photos and videos with short descriptions, and you can also do live streaming. Since the audience is vast, you can use all it provides to communicate directly with your travelers. Many nowadays use Facebook as a source of information. Post all information regarding the restrictions and other news here, and travelers will appreciate it. Leave the comments section open for any questions your customers might have.
People enjoy reading reviews. Previous customers can rate your agency and post a short review on Facebook, which is a fantastic feature. That way, prospective travelers will be able to read about other people's experiences traveling with your agency.
Unsurprisingly, YouTube follows strongly after Facebook – everybody loves watching videos! In the last few years, blogging turned into vlogging. Videos are entertaining, educational, and engaging. What better way to imagine yourself in a destination but with a video! Since statistics show that more and more travelers are looking for inspiration for new places to visit on Youtube, establish your presence there. Travelers are looking for authentic, entertaining, educational, and informative content.
Instagram is one of the most preferred social media channels for millennials, but not only. Selling products and showcasing offers on Instagram has become a common thing. Modern travelers tend to turn to travel Instagram profiles in search of inspiration. In fact, according to SocialMediaToday, "48% of users rely on Instagram to find a new travel destination."
With its specific framework, it is ideal for tour operators and DMCs. It focuses on beautiful pictures, short videos, and keyword descriptions, while its search relies on hashtags. #travel links to more than 500 million posts. Instagram is here to inspire travelers to look into new destinations.
Your target customers will enjoy watching a live stream from a destination. People are much more responsive there than on Facebook (in fact, according to Forrester Research, users engage 10x more on Instagram than on any other social media). Travelers are likely to contact you directly if they require any information. Don't hesitate to ask your travelers to tag the guides or your travel agency in their photos – there is no better promotion than that!
Last but not least, we come to a platform that appeared only recently but seems to be going really strong. Whereas Instagram targets millennials, 41% of TikTok users belong to GenZ, aged between 16 and 24 years. It is a video-first platform mainly focusing on creating challenges, portraying various hacks, and memes. Its content has the potential to go viral within hours of posting. #travel ranked within the 100 most popular hashtags in 2021. Travelers will turn to TikTok looking for some fun challenges, new recipes from all over the world, insights for different destinations, travel tips and tricks.
Be creative, aim to inspire and not sell, and remember – consistency is key!
Blog – a perfect way to showcase your tours!
It may seem time-consuming, but having an active blog is a great way to attract new travelers. It's great to have one person designated to write for the blog, but that is not crucial. Your guides can write or, even better, your travelers. Ask a traveler to do a guest section – what better promotion than having first-hand experience written by someone who only recently visited the destination. They can include some beautiful pictures or videos and give the highlights of the journey.
Update your blog regularly, and don't forget to include direct links to your tours and packages.
It is a perfect place to showcase your offer in a slightly different form. Write travel guides for various destinations. Feel free to include authentic content, share tips and insights, portray local customs, include interviews with locals or your guides, etc. The options are endless and are bound to attract new travelers to book with you.
As mentioned, every traveler starts their research online. When using Google, it is in every tour operator's best interest to appear in search results. To ensure you are among the first, make sure you continuously update your website's content, mainly your blog. As the team at Hubspot put it, "SEO writing is the process of writing content to rank on the first page of search engines like Google. This involves researching keywords, writing high-quality content that matches user intent, and optimizing your headers for easy page crawling." It is a great marketing technique bound to attract more travelers to your website; just give it some time and don't give up! Read more on the importance of having a blog here.
Want to know more about how technology can improve your business?