Losing passengers because of your competitors?
Do you think you lose your sales because your competitors have better prices? Or because they work with lower margins?
Are your sales representatives complaining about their customers – that they want something other than what you offer, that your prices are too high or that they found a better package somewhere else?
The reality, however, is that sales actually fail for far less obvious reasons.
You cannot change or control your competitors and your customers, and lowering your prices or margins wouldn't be good for your business. But there is one thing you can change and control, and that is your own internal sales process. It is the number one place to look into if you want to increase your sales.
Let us share with you an experience from one of our clients.
A large travel agency specialized in selling luxury surf experience noticed that the conversion rate from leads to customers was very low. They couldn't understand why because those leads showed interest, the sales team invested time to create a great offer but the leads just wouldn't reply.
This travel agency, our client, turned to us for an explanation.
Together we conducted a survey that was supposed to answer the question of why leads who have already shown interest in their products have not replied to their offer and were not converted to buying customers. The survey showed that 34% of them have decided to book a similar kind of package with a competitor. So naturally, our client's initial assumption was that their competitors simply had better prices.
What is the real reason why interested leads don't convert?
After digging deeper, we realized that the main reason why leads did not convert to customers was the lack of follow up emails.
How so?
An average person who is planning a trip usually sends several inquiries to different travel agencies in order to get the best prices and offers that he or she can choose from. After agencies send their offers, the customer has to evaluate all of the options. In this period, other agencies have shown more proactivity towards the customer than our client did by sending follow-up emails. These emails usually contained information (pictures, vouchers, discounts) that would help the potential customer to make his/her final decision.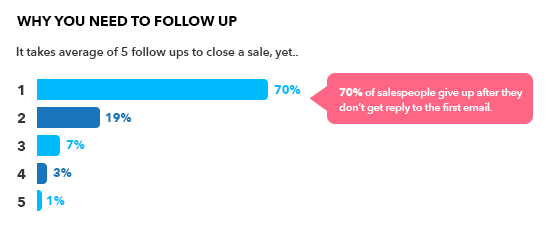 Most sales fail because of a lack of follow-up
Are you aware that it takes on average 5 follow-ups to close the sale? And did you know that 70% of salespersons give up after they don't get a reply to their first email?
So why don't your sales representatives follow up more? The most common reason that you probably hear from them is the lack of time. This can sometimes be true, but actually, the most common reason why sales representatives don't follow up is the fear of failure.
The fear of failure can be immobilizing – we are so afraid of rejection that we resist moving forward with a lead. But when we allow our fear to stop our progress in sales, we're likely to miss some great opportunities along the way.
It is easy to follow up when you feel the answer will be positive, but it is not that easy to do so when you feel the answer will be no.
How to set up an efficient follow-up process?
In order to increase sales in your travel agency, ideally, you would have to help your salespeople overcome their fear of failure, explain to them how important it is to follow up with their leads and be persistent, and make sure that everyone in your sales team is doing that. However, this would require extra resources in your agency, which are already scarce as it is.
Another way of dealing with this new task would require hiring a new employee, but this would create an extra cost for your company.
So, in order to make sure that your sales team is following up with their leads, besides training and coaching, you need to put automatic actions in place.

The solution with Lemax Automatic follow-up module
At Lemax, we have created a powerful solution for this issue in the form of "Automatic follow-up" module.
This module allows you to set up a sequence of several, personalized emails that are sent every few days until a customer replies. This solution significantly increases the conversion rate of your potential customers. And in addition to that, the personalized tone of those emails results in a deeper, more meaningful relationship with your customers.
How do we know that?
With our module, you have the ability to provide a personalized experience which improves email performance. Our software specialists will help you create a sequence of emails and integrate it with your system. 
Winning more customers as the result of the Lemax Automatic follow up module
After one year of using the "Automatic follow-up" module, this agency was able to increase their conversion rate by 3% which lead to an increase in sales by 20%. This was done without creating an extra cost for the company: without the additional training and coaching, or hiring a new employee or having a team lead to oversee the whole sales process.
Interested in seeing how it works?
Learn more about our automatic follow up module