At Lemax Software we constantly work hard to bring you new improvements and add new features which will make your life easier. We are proud to announce that we have been working on the redesign of the user interface for entering prices per day for hotel (or other) accommodation.
As we all know, it is very often the case that hotels (especially city hotels) have different prices depending on whether it is weekend or weekday. Lemax Software already had a solution for this. You could redefine the net price and the selling price of each day in a period. However, the user interface for doing this was a bit clumsy. So, we thought about it and figured out how we can improve it.
The main improvements:
1. You can now use one control to set up both selling and net price at the same time.
2. Margin box added, so you can calculate your selling price from your net price by adding the margin in %
3. The icon is colored red if there are different prices for different days.
One control for setting up both selling and net prices
When defining prices per day, we have added the option that you can define both selling prices and net prices in one place, where it used to be a specific control for net prices and another one for selling prices. This has resulted in several changes in the user interface. The first one will show that there is only one "plus" icon in the price list in the selling price field of a certain period group. There used to be one in the selling price field and another one in the net price field. Twice less options – twice the simpler the interface.

When the "plus" icon is hovered, it opens up the editing control. This control now has three price lines, the selling line, the net line and the margin line. Up until recently, it had only one line, depending on the price it was used for.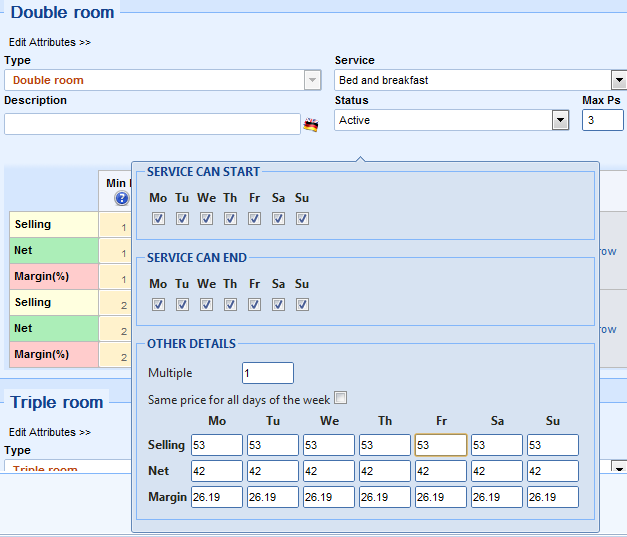 Margin box added
As it is shown in the screenshot above, not only can you now define the net price and the selling price from one place, but you can use the "Margin" price line to automatically calculate what your selling price should be. E.g., if a hotel tells you that weekday price is 30€ per person per night, but the weekend price is 25€ per person, and you want to take 10% margin on the weekdays, but 15% on the weekends, this tool will allow you to do so. Simply by entering value 10 in the "Margin" price line for weekdays and the value 15 for weekends, the system will automatically calculate that your selling prices are 33€ on weekdays and 28.75€ on weekends. Simple!
The red "plus" icon
Lemax Software can, in the basic price list, show you only one price. So, how can you know that some hotel has different prices for different days? We have also thought about this, and have found a way. If there were any changes made with prices per day, the "plus" icon used to open up this control will be colored red, so that it indicates changes had been made. Once you hover it, the control opens and you can see correct data about the period you are looking at.

Conclusion
As you can see, we constantly do our best to improve on the user interface of Lemax Software to make it easier to use. We hope that this will help your tour operator or travel agency business use Lemax as their travel booking software more easily.