Since the Covid-19 outbreak, millions of jobs and companies have been impacted globally in the travel and tourism sector. As stated in the Economic impact reports by World Travel & Tourism Council (WTTC), tourism made up 10 percent of global GDP in 2019 and was worth almost $9 trillion. During the pandemic crisis, international tourist arrivals are projected to plunge by 60 to 80 percent in 2020, and tourism spending is not likely to return to pre-crisis levels until 2024 [1].
We summed up some predictions for the post Covid-19 travel sector in 2021 and brought up ideas on preparing your travel company for new demand.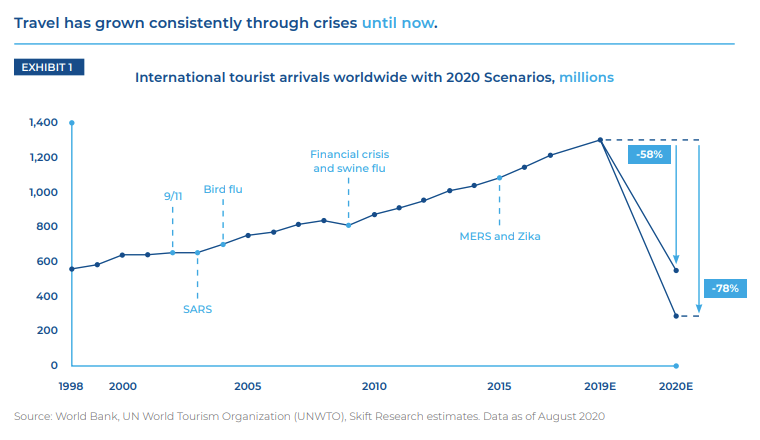 With the announcement of having vaccines ready for people around the world, optimism has risen. But to start the recovery and bring demand to a higher level, countries, markets, and organizations need to collaborate. Building travelers' confidence and making them feel safe will be vital for recovery. There have already been some global protocols prepared to ensure some common rules globally, an example from WTTC is a global safety stamp to recognize safe travel protocols [2].
Post Covid-19 travel: willingness exists, but safety first!
By the reports from McKinsey and Skift [3], there are few new trends visible among travelers:
People are willing to travel again, even before the vaccine is available at scale – both in leisure and business space.
Even though they are willing to travel, they are restrained regarding leisure space. Each country still has its own safety measures, quarantines, and restrictions.
New work-from-home or even work-from-anywhere way of work has started to blur the line between leisure and business travel.
Safety, being well informed and feeling comfortable during all the steps and at all touchpoints of the journey is becoming even more important than the price itself.
According to the U.S. Travel Association, travel space will begin to change in the second quarter of 2021 [4]. There are some predictions that higher-income households would lead the recovery. The reason being they could have worked remotely and saved money as they couldn't travel or go outing. Expectations are that domestic travel, nonair, and leisure travel will take a shorter time to recover than international and business travel.
Faster recovery of domestic travel
Domestic tourism is expected to return to pre-crisis levels one to two years earlier than outbound travel. The reasons are fewer restrictions, nonair substitutes available regarding transportation (cars, trains), friends and family to stay with, etc. [5] This will also highly depend on things such as availability of land transportation and health measures. Active promotion of domestic destinations, access to healthcare, and promoting travel safety itself will also influence it.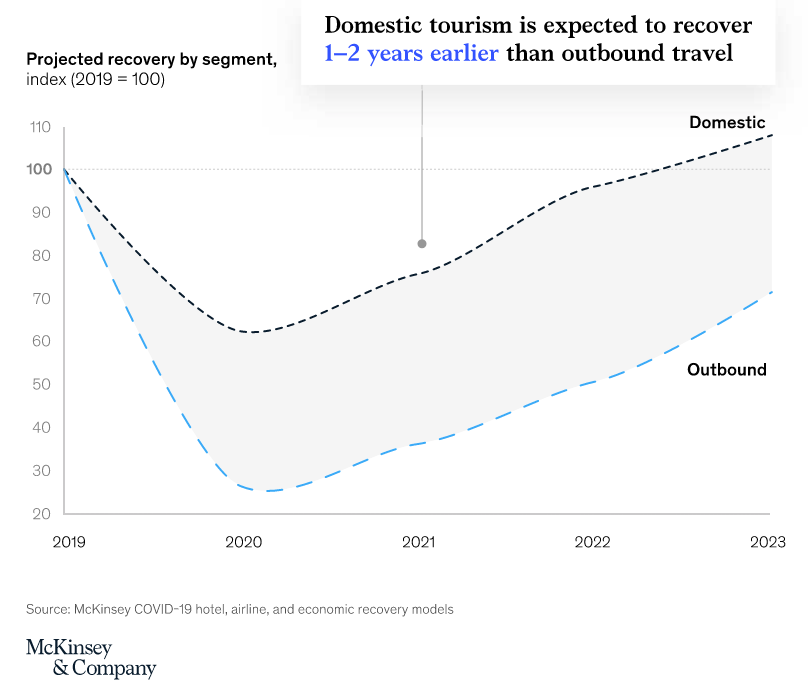 As already mentioned, when people decide to travel again, there will be some new aspects they will pay attention to. Price is always important as people usually have a budget they are willing to spend. But, now some other things go higher on a priority list. They are also some things that we've seen when exploring search trends, but as well are noted in different researches.
Travelers will want flexibility – "free cancelation" in filters will be used more than ever, finding properties with refundable rates.
Understanding restrictions and rules along their route, at each border, public transportation, etc.
Travel insurance and available healthcare institutions at the destination as well as an overall level of health and hygiene at the destinations.
Being regularly informed during their stay so that they know what to expect on their return.
There are already some digitals tools available to help the travel industry's recovery. For example, Google recently launched a set of tools that help you explore and monitor how tourism demand is changing. It shows how this year compares to previous years' demand. It also helps you to learn where people are searching for hotels and explore booking trends.

Preparing your travel company for new demand
Digitalization and having up-to-date data will become crucial. Many tourism companies have struggled with keeping pace with new consumer digital preferences. In Europe and the United States, as many as 60 percent of travel bookings are digital. Also, some trends show that in the post-Covid-19 era, travelers will look for speed and flexibility. As McKinsey stated, more than 90 percent of recent trips in China were booked within seven days of the trip itself. [1]
The last months have been extremely tough for travel companies. Many had to close their business, and many people lost their jobs. The upcoming months also bring a lot of uncertainty. However, there are some conclusions on preparing for the recovery and how to be ready for new demand. In tourism, it's all about the experience. Not only at the destination itself but through the entire process of planning, traveling, and staying at the desired place.
Personalization and unique offers will become more important than ever. Your customer segmentation will become more complex; you should start thinking about microsegments.[3] You will need to move away from grouping your customers into basic boxes like business and leisure travelers. Rather think about "digital nomads finding a weekend getaway", "business travelers staying the week", "families with kids looking for an adventurous weekend in nature". The data will become your best friend. People will be interested in alternative offers and destinations – maybe enjoy nature away from crowds, vacation rentals, driving by themselves, etc.

Understand the entire customer journey and improve the customer experience at every touchpoint.[3] Write down all the use cases, what your customer goes through, what could happen, how could he/she feel at the moment, and what can be done to help them feel safe and overcome bad situations. Rethink; booking, travel experience, accommodation, transportation, etc. You don't want to make them feel unsafe, left alone, and non-informed.

Digitalization of everyday life and your way of work – during the Covid-19 crisis, there has been an increasing shift to mobile and digital in all aspects of life, from paying the bills, ordering food, buying clothes, researching, and purchasing whatever needed. These new habits will become important for travel companies also. People are reading online reviews and will want to do everything online, get fast responses, get tickets, reservations, and vouchers directly to their phone, etc. The importance of proceeding with digital transformation for travel companies is now more critical than ever. Being fast in responses, making quotes, collaborating with your suppliers, responding to inquiries, having your colleagues working from different addresses; it all needs new processes and new technology. Read our free ebook on how to prepare for finding the best travel technology for your company.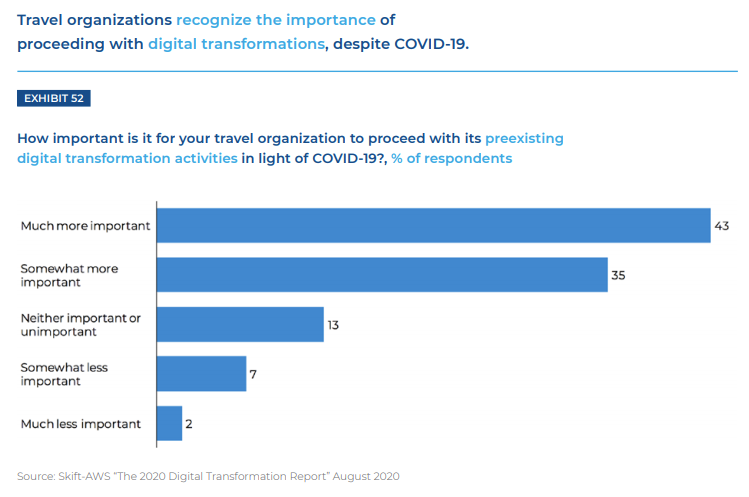 Sustainable tourism, building partnerships, and a stronger tourism ecosystem – key players in the tourism industry should start thinking about how complementary they are, how they can collaborate. For example, when switching partner flights, people often need to change terminals and go through complex procedures in case of missed flights; can this be simplified and shorter their time at the airport? This is one pretty complex example, but think from small steps – can you offer flexible dates, cancellations, how are you handling that with your partners and suppliers. Now is the time to reinvent the way you collaborate with suppliers and what experience you provide for travelers. Regarding sustainability, in a 2019 McKinsey CleanSky survey of travelers, 54 percent were "really worried" about climate change. Maybe this is the time to start rethinking tourism and how it can contribute to saving resources and our planet which is our only available destination (well, at least for now).
Post Covid-19 travel: digitalization is key
The entire tourism and travel ecosystem will need to collaborate and share information to support travel recovery. Macroeconomic factors will, of course, have a big impact on tourism recovery also. Understanding new demand, trends, habits and behavior, and collecting data to adjust offers and tours will become crucial for travel companies.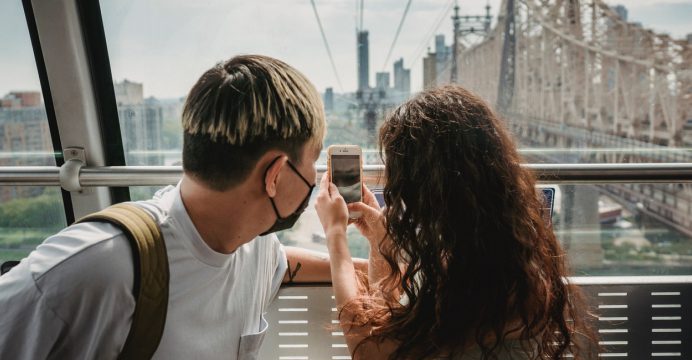 Taking all this into consideration, tour operators, travel agencies, and DMCs need to rethink how they work internally. The way they collaborate with their partners and suppliers, as well as how and what they offer to their customers. Thinking about new processes is crucial: a collaboration with insurance companies, getting and sharing destination-related information from institutions, etc. Speed, efficiency, having up-to-date information, ensuring access to healthcare even away from home, and delivering a better experience will be key to success.
Start rethinking your processes and how you create offers now. Make your collaboration with suppliers efficient. Digitalize the way you work and be ready for new demand in the post Covid-19 travel era.
Ready to digitalize and automate your travel business process?
---
Sources:
[1] McKinsey: Reimagining the $9 trillion tourism economy—what will it take?
[2] WTTC Safe Travels Global Protocol Stamp
[3] McKinsey and Skift report: The travel industry turned upside down: Insights, analysis, and actions for travel executives
[4] TravelPulse: US Travel Predicts Turnaround in Second Quarter of 2021
[5] McKinsey: COVID-19 tourism spend recovery in numbers