Where to travel in 2021? How to travel in 2021? Where even start with the research? Which rules and measures to be aware of?
After a full year of the global pandemic, things have finally started moving forward: the vaccination has started massively and many countries are looking to find the right way to open up their touristic destinations.
Travel lovers can't wait to start packing. We have run a survey among them last month and the results have shown that not only majority of people will travel this year regardless of the special restrictions, but it's also clear that we can expect a huge increase in the use of travel agents and tour operators' services in 2021. We have collected and analyzed their feedback and summed up four main reasons driving this shift in traveler's MO.
1. Safety first
Most of the participants called out reduced risk as their primary reason to choose travel agencies and tour operators to travel in 2021. Here're some of their answers.
Due to the travel circumstances and the insecurity, I will expect the Travel Agency to lead me through the process of my travel with all the new rules and in case there would be any changes I would rely on them to manage it and not to be the one who has to manage all the details.
ATOL Protected, COVID refund policy, etc. But I will also go direct where there are these refund options in place with the provider.
In case of some delays, I will be sure to receive my money back.
Additionally could be useful to get all important tips regarding the corresponding processes and certifications needed related to Covid restrictions.
It's become too complicated to do it myself. And I feel more secure if I do it via an agency, in some unlike the turn of events to get my refund.
2. Hassle-free
Planning a trip in the "old normal" times sometimes has shown to be too complicated, especially if it's for a larger group of people with different interests and wishes, let alone in 2021. So it's no surprise this was the second most important reason why our survey participants will use travel agencies and tour operators even more from now on.
Easier to get information about all measurements and steps that need to be done before the travel.
Too lazy to book everything myself.
It represents an advantage as it has a single point of contact/booking/paying.
3. Lower cost
Let's not forget about the money. All-in-one service not only eliminates the hassle and worry, but it is also, most times, a lot cheaper than paying for each service separately.
Eventually because of lower travel costs.
It is easier for me, faster, and sometimes a lot cheaper.
Hassle-free and better price.
4. Stress-free and time-saving
And last but not least – having someone else to take care of every little detail of the trip is just so… comfy! There's no doubt – travel in 2021 will be less stressful and time-consuming if using an agency or a tour operator.
It's much more comfortable than book everything by myself.
I love not thinking about every single detail about the destination.
I don't have time to make my own itinerary.
To avoid any surprises on remote destinations and to have an expert partner that will take away all planning and logistics work from me, allowing me to enjoy my vacation.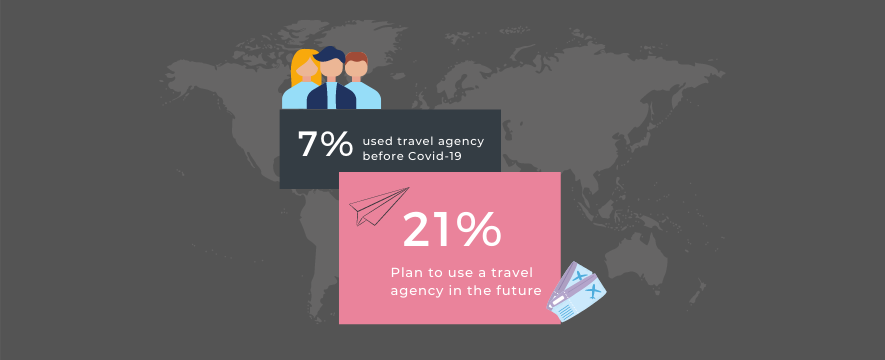 It's very encouraging to hear from actual travelers that nothing is going to stop them from moving on with their lifestyle. If you're a tour operator or a travel agent, keep this in mind when planning this year's campaigns and activities. On top of that, the statistics about bookings of domestic holidays in the UK and USA have also started growing rapidly. Moreover, the EU Commission has proposed "Digital Green Certificates" which will enable free movement between the EU countries too, for the travelers who have either vaccinated, tested or recovered from the virus within a certain amount of time.
All the more reason for tour operators and travel agencies to start preparing for the tourism comeback. Are you ready?
Ready to digitalize and automate your travel business process?