Doing digital marketing for travel agency and tour operator companies in the "old normal" times was challenging and complex work that many have not been doing on a satisfactory level, let alone since the pandemic has turned over our whole lives. If you, too, are aware that your travel business needs to step up the game and be more present in the digital space, but you have no idea where even to start, you're in the right place.
1. Get to know your audience
Understanding who your audience is is crucial. There's no tool, strategy, nor tactics that will be useful for you if you're not targeting the right people. Ask yourself a few basic questions:
Are you an inbound or outbound travel agency/tour operator?
Where are your potential users located?
What's their age, demographics, interests?
Which are the main segments of your audience?
What are the specifics of each segment?
What would you offer to or communicate about with each segment?
When you map out your audience like this, you have built the foundation for everything else.
2. Talk to your audience
Before getting onto digital marketing for tour operator businesses, let's not forget how important and reassuring regular and honest communication is with your audience.
While you might be busy preparing for the tourism comeback in all sorts of ways, don't leave your audience hanging. They too are impatiently waiting for the day when they will be able to travel again. And when that happens, they'll choose the vendor who is on top of their mind and who they trust. The best way to gain (and keep) their trust and make them think of you first is to be transparent about everything you do.
What is your cancellation policy due to pandemic?
Is it clearly explained and easily found (on your website or social accounts)?
How do the returns work?
Are there any other restrictions your audience needs to be aware of before using your services?
Don't leave out any information that can be relevant for your final consumers. The best channel to keep this communication open is social media – primarily Instagram, Facebook and Twitter, as they're the most relevant and most efficient social platforms for the travel industry. We'll get into more tactics for social media further down in this blog.
3. Make data-driven decisions
Now that you understand your audiences, it's time to analyze their behavior in order to adjust your digital activities accordingly. There are three key areas you will want to analyze:
What is your target audience looking (searching) for?
Google has a free tool called Google Search Console in which you can see keywords that have led visitors to your site. It will also show you search trends over time, so you can decide on the content topics based on this report.
Another Google tool is the Keyword Planner. Connect your website with the Google Ads platform (even if you don't plan to spend money on ads). Keyword planner is a part of the Ads platform where you can use this tool. It's great for researching any keywords you are interested in and see how many hits they get monthly on average. You can search by country, city, region, or go fully global. It will also give you back other, similar search queries, so it's great to get some inspiration for your content plan down the road. If you will eventually want to invest money in Google Ads, this tool will show you the range of the bid cost too.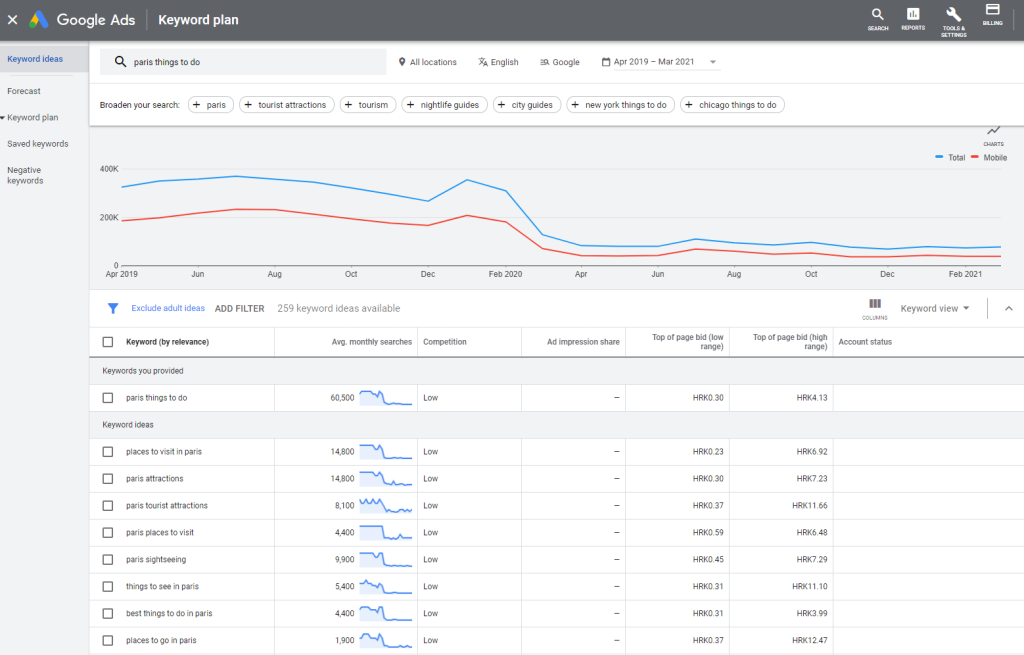 What do they look for on your website?
How many people visit your page every day, week, a month? How long do they browse it, which parts of the site are the most interesting to them, and which make them leave in less than 2 seconds? Has the traffic increased compared to the month or year before? There are numerous reports and metrics to look into, and the two best (and free) tools to use are Google Analytics and Hotjar. Play around with them, you can't do anything wrong. Look up definitions of metrics, check industry averages, see how your website is performing compared to them.
How do they engage with your newsletters?
Regardless of which CRM system you're using to distribute newsletters, it should have reports included. The two most popular and easy-to-use ones are Hubspot and Mailchimp, and the two most important metrics to look into are Open rate and Click rate.

Is your social media community engaged?
Are they watching your Youtube videos? Is the engagement on Instagram in line with the industry average? Has it dropped or grew over time? Do videos do better than images? Is a longer caption better than a short one? If you ask a question in the post, is the number of comments higher?
Each Social platform has reports built in their regular user interface, for free. Don't ignore them, monitor them carefully and over time, try to find a pattern, and make decisions for your future social media strategy.
4. Use the "quiet before the storm" time to be creative
While waiting for tourism to get back on its feet, use this time to figure out how are you going to stand out from the competition once the travel boom happens. And there's no doubt, it will happen, it's just a matter of time. So think about what makes you different from other travel agencies and tour operators? What can you do now to differentiate yourself and be authentic? Here're a few suggestions:
Give your website some love. Assuming you already have a website for your end B2C users – and based on the data you get from Hotjar and Google Analytics – invest some time and resources into the website revamp. Sometimes little things such as different color palettes or a font or switching placements of different elements can make a huge difference in converting customers.
Be playful on social media. As the majority of your audience spends more time online than ever, it's a no-brainer (and completely free) to be engaging with them. Tease them with beautiful pictures of destinations you're offering in your itineraries. Ask them to guess the country, or to tag a friend that they would take with them once the borders reopen. You can even organize giveaways for vouchers for your trips that they can use once they'll be able to travel again.
Revisit your itineraries. See if you can make them unique and different from your competitors. Write down your ideas, work them out and conceptualize them. Reach out to your partners, suppliers, and other vendors and suggest them your ideas. Once you have a final concept agreed upon, move on to building your marketing strategy around your unique offers.
Related: How to Create Tour Itineraries in a Few Minutes and Sell More Travel Packages
5. Build out your digital and content strategy
Only after you're finished with the previous four steps, you can actually start creating strategies, tactics, and plans for marketing for travel agency or a tour operator company. Preparation and analysis are key, or else you will be very subjective and waste your time on activities that won't bring back any value to you.
In your niche, content marketing is The King: naturally, beautiful destinations you offer to your customers are the pillar of your content strategy. These are the most important and effective channels/platforms where you should be creating and distributing your content:
Your website is the mirror of your business and, on top of your catalog of offers being impeccable and seamless to browse, blogging is the way to keep your visitors on your site. In the pandemic times especially, when people are daydreaming about traveling again. Help travelers in their decisions for the post-Covid travel rebound: inspire them and build trust, by showcasing your expertise in your blog posts! This will directly impact their demand. If you would like to be more expert in blogging, we suggest you read our whitepaper: "The Benefits of Publishing a Blog for Travel Business".
Just remember the third step from before – data-driven decisions. Each piece of content you create will, ideally, respond to search trends. If you want to write about "top destinations to visit in Iceland", check how many people search for it. Check if the interest has grown or dropped over time. If you have already written blogs in the past, check and analyze their performance and see what worked well.
Also, there are rules for writing blogs in a way Google will recognize it as unique and good quality content and rank it high. This is called Search Engine Optimization – SEO and it's a specific field of marketing. Find more detailed tips for blogging here.
E-mail marketing is one of the oldest but till today one of the most effective in the travel industry. Especially for nurturing your existing customers and gaining them back to use your services again, as well as targeting subscribers who you yet need to convert into customers.
Now remember the second step in this blog – audience segmentation – it's super important to target your audience segments with a newsletter that will be relevant to them.
Let's say that, in current times, your main segmentation might be different than usual, so you're splitting the audience into the following three batches:
1. Customers who bought and used your services before the pandemic
2. Customers who bought your services but never used them (canceled due to Covid)
3. Subscribers interested in your services but haven't bought or used them before
You will want to target all of them, but the message and content will be different. For example, you will let know segment no. 1 that you're "back in the game" once borders reopen, and try to get them to use your services again. Segment no. 2 could receive your offer of an alternative destination to the one that was canceled. The last segment might receive a discount code to give them extra value if they choose you over the competition.
Possibilities are endless, you just need to decide what you want to achieve with each segment and go for it. Over time, once you have structured your segments and prepared enough content, you can set up automated workflows in your CRM system which will send out emails automaticaly, based on the rules you set up. This will reduce manual work and improve user experience.
We mentioned before the benefits of social media – sharing compelling images and videos and engaging with the community that basically "lives" on Facebook and Instagram these days is low-hanging fruit. After the crisis is finished, keep up the good work on social – share customers' experiences, create your own hashtags, continue with giveaways, etc. Utilize as much as you can all the free, organic features of social media.
Level up would be paid campaigns. Each social media platform has super easy-to-use user interfaces where you can set up sponsored campaigns targeted based on audience preferences.
If your budgets allow you to do so, we would also advise you to invest in paid marketing. Primarily Google Ads and primarily using remarketing strategy – targeting people who visited your website but bounced off and never converted. You must have been targeted in the same way with visual ads from different brands after you browsed their websites, so you're familiar with the user experience. Pay attention to the design and messaging, try to stand out. In terms of the setup and management of campaigns, there's a lot of documentation on Google Ads Help pages.
Hopefully, this blog has given you greater insights into the basics of analysis, preparation, and execution of content and digital marketing for travel agency. Some of these steps are easy-peasy and quick, some of them require more knowledge, time and money. This is why businesses often hire specialists or outsource it to external contractors or marketing agencies. In any case, it will pay off.