Workflow automation has become crucial in many industries and affects most modern businesses nowadays, including travel companies. Speed up bookings, increase revenue and efficiency by automating your travel business processes with triggered actions that can easily be set up inside the travel software solutions.
WHY: Reasons why you need workflow automation for your tour operator business processes
Before we start thinking about "What "can be automated, let's shortly discuss "Why "and the gains of investing time and money in such technology and actions.
Faster sales and increased revenue
The entire sales and booking journey has numerous steps, and few sides included. Customers often ask for changes after their first inquiry. Then, you need to change the itinerary, call suppliers, check prices… Recalculate, update documents, send emails back and forth, and so on. If you could automate these steps, get more time, reduce manual work, mistakes, calls, taking notes, you could easily see your sales graph growing. With automated actions, the number of reservations that one person can manage also increases significantly.
Improved efficiency and saved resources
Travelers tend to send inquiries to more than one agency. Often they're asking for more things such as accommodation, transfers, and excursions on destinations. You need to be fast in creating offers, and by having all your products in one place, easily searchable, you can get more time to be creative. You can even quickly build even a few personalized offers. But then, you need to check it all with suppliers, create all documents for customers, and so on. If you could automatize all of that, imagine how fast you can be! Not only that – you get a standardized process. You can easily hand-over the job to another agent, and manage more in less time.
Happy customers and productive employees
Innovative technology can do numerous repetitive tasks instead of your employees, even eliminate some for them. Free up their time to be creative by automating workflow and communication steps, such as sending documents to customers and requests to suppliers. On the other hand, with fast and personalized responses, customers get a better experience starting from the inquiry to the agency to their stay at the destination. There is a third side; of course, you strengthen your business relationship with suppliers with professional and reliable processes and communications.
WHAT: Automated workflow actions for travel business
We could talk about the benefits of implementing automated actions to your business processes for days. But let's see some practical examples of workflow automation that could be done inside the sales and booking journey of a tour operator business, just to give you some ideas, you can do even more.
Lead assignment and notifications
The journey starts with an inquiry, and as we already said, travelers tend to send inquiries to more than one provider. The inquiry shouldn't wait for too long before someone picks it up and starts working on it.
If a team of employees manages bookings, you could easily set up notifications when an inquiry is assigned to one of your free agents. He can immediately start building an offer and quickly reply!
Asking suppliers for availability and instantly getting confirmations
Eliminate numerous emails and calls with suppliers. You can automatically send inquiries to suppliers. On the other hand, suppliers can use a link received in your inquiry and confirm the availability of their services with a few clicks.
Looking down the workflow, upon receiving online or offline payments from customers using the software, you can automatically send confirmation notices to suppliers. All of that can be done without manual work involved.
Sending documents to customers – offers, itineraries, invoices, vouchers
On the customer side, a similar thing can be done. Avoid manual creation of documents, inserting prices and discounts, building itineraries, and copy-pasting images and descriptions. It can sound like an easy thing to do for one document; imagine building 100. If you properly feed the system with products, images, and descriptions, there is a way to triple the number of itineraries and offers that you could build at the same time. You can even send multiple options easily for each inquiry.
Upon receiving availability info from suppliers, the software automatically can send quotes and nicely designed itineraries to customers. In the next stage, after receiving online or offline payments from customers, the system automatically sends invoices and vouchers to customers.
Win more sales with quick responses and beautiful itineraries. Save time by quoting and invoicing your customers automatically.
Automating engagement follow-ups
Major missed opportunities in Sales come from not following up with your customers. Following-up is time-consuming, and sales personnel tend to focus on customers that do reply.
If you, for example, set up a series of emails that are sent every few days until a customer replies, it could significantly increase your conversion rate and revenue!
Collecting customer feedback
Gathering customer feedback ensures you understand the gap between customer's expectations and what you provided to improve your service and products. Collecting feedback should be continuous. This way, you understand new trends, new needs, and how customers think. Making sure your service and products provided satisfaction and a good experience is crucial, in tourism specifically.
You can automate these feedback inquiries immediately after your collaboration or the trip, and make smart decisions for the future. You can even follow up when customers had bad experiences to avoid bad reviews and reputation.
HOW: Lemax – the ultimate workflow automation with clients and suppliers
Lemax is a web-based travel software that helps you manage your entire tour operator business from one platform. Unify your products such as accommodations, flights, transfers, tours in one platform and prepare for faster bookings!
Increase revenue and efficiency by automating your travel business processes with a wide range of automatically triggered actions towards customers and suppliers. Everything happens in the background, with no manual work!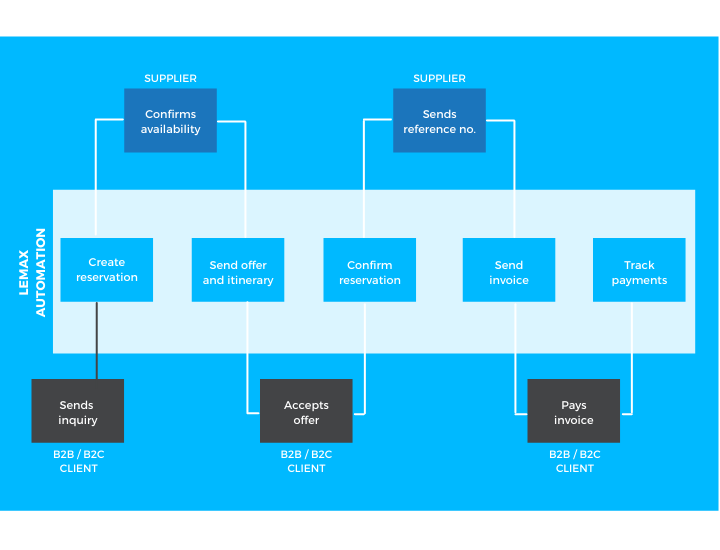 "We chose Lemax, as one of the reasons, for a high level of automation! You have a lot of automatic actions you trigger – auto-confirmations to suppliers, auto invoices, auto-itineraries, you name it! There is a wide range of automatic actions in your system."

Marcel Grifoll, Group CFO, Asian Trails
Explore Lemax travel software and schedule a meeting with our travel experts.