A good way to make a good brand awareness is definitely to provide online reviews of your travel company. According to Socialmediatoday.com, 71% of customers agree that reviews increase their comfort level and re-affirm their buying decision.
There are several ways you can get reviews coming from your customers, so how to get them?
TripAdvisor
It's the world's largest travel site. Here you can introduce your products and services to millions of qualified travel buyers. If you're asking yourself why make an account there, read the following stats (Source: tripadvisor.com):
More than 150 million reviews and opinions from travelers around the world
More than 4 million businesses and properties in 140,000+ destinations, including:
810,000+ hotels, B&Bs, and specialty lodging
600,000+ vacation rentals
2.2 million restaurants
420,000+ attractions
More than 21 million candid traveler photos.
More than 100 new contributions are posted every minute.
More than 60 million emailable members worldwide.
On average, nearly 2,800 new topics are posted every day to TripAdvisor forums.
 More than 90 percent of questions posted to TripAdvisor's English-speaking forums are replied to by other travelers within 24 hours.
After making a TripAdvisor account, enable your guests to leave reviews and comments for your services. People believe in peer reviews more than any kind of advertising. Most reviews on TripAdvisor are honest so try to get feedback from your customers.

This is how a review looks like. Wouldn't it be great to spread such nice comments about you as well!

Facebook fan page
Facebook enabled reviews of company business profiles (fan pages). It's easy to get reviewed and people love it because it's simple to use. Your visitors only have to go to the Reviews tab and click "Write a review" – simple as that!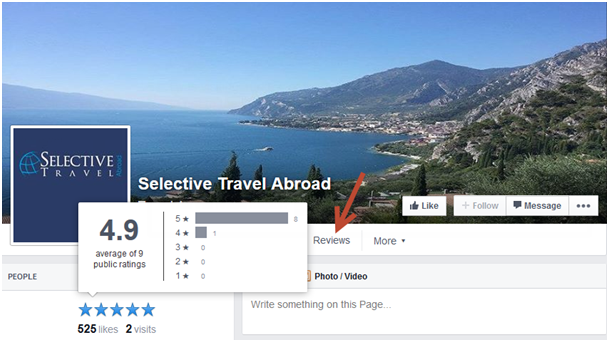 Don't you want to enable your customers to write freely their reviews on the fan page of your company? It can be a great feedback! This is how a review looks like.

Seeing interactions on your travel website is definitely making you stand out from your competitors! So make space on your site where your customers can post comments and a place where your potential customers can see those comments. Perhaps you can add some kind of survey as well.
Specialized business review sites
There are a lot of sites that combine different travel business reviwes. One option is to let your customers leave a review and rate your service, but there are some sites that give you the posibility to pay for a profesional review by their consultants as well. This is not only helping your brand awareness, but also you SEO! For example, check this site: http://www.reviewcentre.com.
TIP!
Don't you dare to delete reviews. There is no need to be afraid of negative comments. See this as an opportunity to engage with your customer, resolve the issue and explain what you're all about. It can also give your business the ability to show you care and that you're listening!
Free eBook: How to get tourists through Facebook
Facebook Fan Page setup!