Tour operators' business has shifted more online in the last two years; they have realized that customers are so deeply used to shopping online, and it's a trend that will definitely not revert.
Up until a few years ago, it was a common standard in the industry that tour operators only had a display of products on their website, while customers' purchases took place by phone or email. This trend is changing globally, and the majority of tour operators who want to keep growing are increasingly looking to invest in online business.

Mate Kostovski, CEO, Lemax
And it's not only about the final consumers of their travel products – mid to large-sized tour operators know well that their partners and suppliers' network also needs to be fully integrated online in this day and time.
Acceleration of digitalization of industry, with the distribution ecosystem and online internal processes taking out manual process steps, will continue to be a big trend, with current labor shortage especially. Once you've experienced the ease of booking online, it's very tempting to stay online and not return offline. I expect a big shift everyone should prepare for.

Axel Hefer, CEO, trivago
But how exactly does it work? How does a tour operator benefit from using a B2B online booking software? What do their partners and suppliers get from it? What are the actual functionalities of this sort of technology, and how does it bring value to a mid to large-size tour operator?
Everything in one place 
B2B online booking by definition allows partners/travel agents to book items from the system that you, as a tour operator, use. It enables partners to have an overview of all the products and documents, and make reservations directly from there. Moreover, a partner can enter customers' transactions and follow them together with the reservations.
To get to know the online booking B2B software better, here's a list of the 5 most important advantages of such a system.
1. It provides travel partners with the information needed for the purchase
One great advantage is that once you enter your travel services in the system, they will be visible to your travel agents (once you provide them with a partner login entry). The visual appearance of their system will be almost the same as yours, with the only difference being that you, as the administrator, have more options. What exactly can the travel agents see within the system?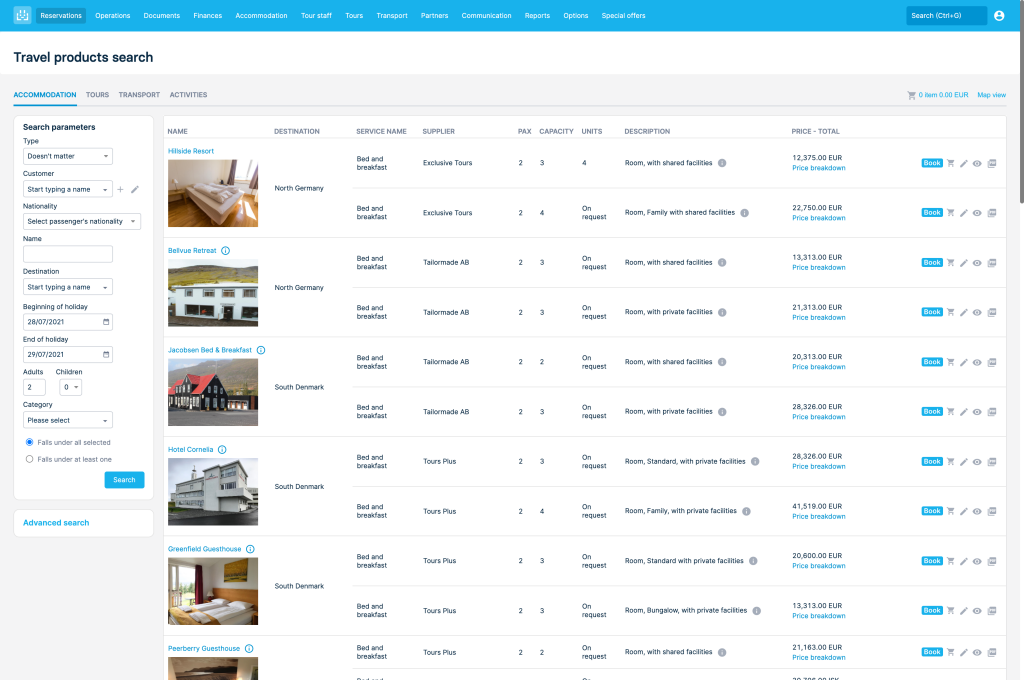 a) Services
Travel agents can find all the services gathered and centralized in the system when making a reservation. Aside from the list of the services you offer, they will also see their descriptions (service image, service info, etc.), selling price, location, a service supplier, and the number of units available – all the information needed to create a new reservation.
b) Pricing & Availability
In addition to the services list, your travel partners will get an insight into pricing and price lists for each service, as well as what this price includes. The price list shows not only the cost of the basic service but also the prices of additional services, supplements, reductions, and discounts. Once you've made a service available by adding allotments, a partner will be able to book this service directly and enter payments for it. If no allotments were added, they can just click on "Send an inquiry". If you disable booking on specific dates, partners won't be able to make any bookings in that period.
c) Promotions – special offers
Available promotions can be seen on the B2B login side, too. If you want special offers such as 6=7, last minute, first minute, etc., you can enter them into the system. Your travel partners will be able to use them. They can help generate demand and increase sales.
d) Different pricing levels for different markets/partners
If you want different pricing levels towards different partners, you can define this in your back office by using different markets. For example, you have 3 markets – European, Asian, and American. You can simply adjust the prices by adding different commissions to each market. Each partner will get their price depending on which market you assigned them to. The end result will be that your travel agents will automatically get prices you predefined for them. It is a great marketing tool to assist, increase, and reward partner sales.
2. B2B online booking allows your partners to enter reservations – reservation management
Because they have all the information they need – a list of products, prices, info about special prices/promotions, services availability, and similar, travel partners can easily make a reservation directly through the Lemax interface designed for them. They also have an overview of all the reservations they added to the system. In other words, the system allows both sides to track reservations and manage them.
3. It provides all the documents needed to be forwarded to customers
Mutual communication between the tour operator/travel agency and its partners is well supported. Once a partner makes a reservation, they will get the document depending on what action was taken (e.g. send request or booking). If they send a request, an offer and itinerary will be sent from Lemax automatically. If they book, they will get an invoice. Of course, this is not set in stone and can be altered if the business processes of the travel agency dictate otherwise. Furthermore, partners will have an overview of all the documents created connected to their reservations and can forward them or print them out for their customers.
4. B2B online booking speeds up the communication process
A gain for both sides! They can communicate directly with the system. One side checks with suppliers (if needed), confirms reservations, and sends documents, while the other sends new reservations. There is no need to communicate over the phone anymore and waste hours on paperwork! When paperwork and phone calls are reduced, more time can be invested in attracting customers – finding new customers, creating new marketing campaigns (Google AdWords, for example), etc., leading to better sales.
5. It enables better control over the whole process
With everything in one place, there is better control over the entire process. Partners have an overview of reservations and the documents they made, and more importantly, the whole overview is centralized, eliminating possible mistakes.