Yes. Well, that sure killed any suspense you might have had, but hear me out here. Full disclosure first: I do SEM and SEO here at Lemax, so I'd probably make an AdWords campaign for selling ice to the Eskimos (know your target audience), but that's just because I know it can work. So from my point of view, it's not really a question of if you should do it, but rather why you should do it.
So here goes:
It's ROI positive if done well
AdWords isn't some mumbo jumbo black magic kind of thing. No, it's very exact and very measurable. In fact, it's probably the marketing channel that can be measured most precisely. That means you know where each of your marketing dollars goes and what you get in return – your return on investment.
Your ROI on pay-per-click advertising should be positive and AdWords gives you a lot of control and granularity to help you achieve that. The key is in audience targeting. You need to be able to find your prospective buyers among 2.9 billion people who use the Internet, and you do it by selecting the language they speak, the country or city they live in, their age or sex, and the types of things they're trying to find online.
Once you target your audience very precisely, you will be able to convert them to buyers a lot easier, and your ROI will be a nice, upwards trending line.
Your competition is doing it
Try to do an easy Google search, type the name of the service you're selling most (vacations in Europe, Caribbean cruises, Eskimo dog-sled tours, etc.) and see what results you get. This is what I got: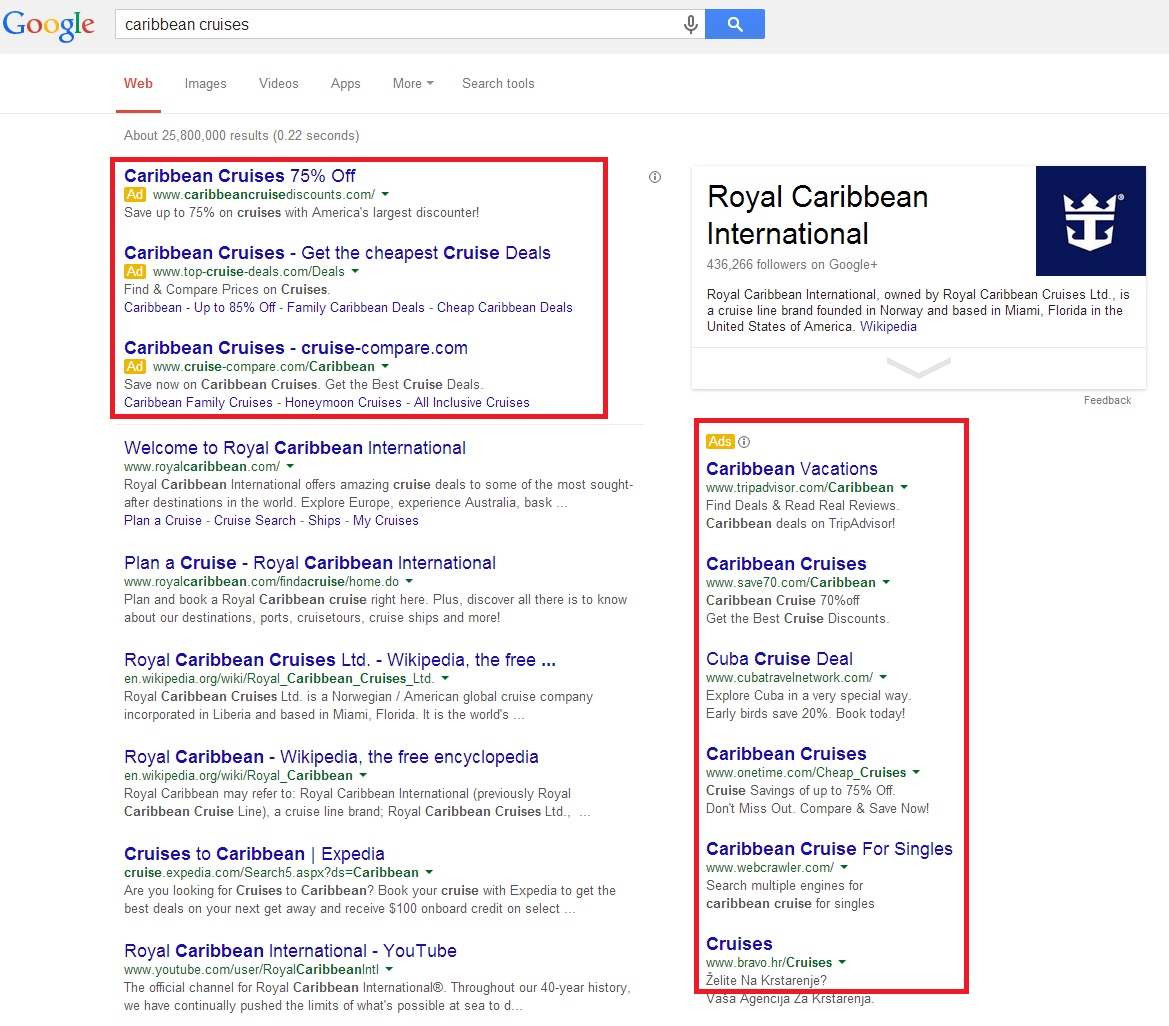 Chances are your results look very similar. See any of your competitors there? It's a good thing if you don't, but it's highly unlikely. Here's a little statistic for you. According to Google's consumer barometer (amazing tool, by the way), 70% of people in the U.S. who purchased package holidays did so online. More than 85% of people will research a holiday online before buying. Your competition has free reign over all these people, and they really shouldn't.
You get the visibility that you normally couldn't
Every marketing channel has its specifics and a prevalent type of audience that uses it to find you. Roadside banners might work for a gas station, but they won't necessarily work for a development company creating mobile solutions. Though AdWords is often compared with SEO, the two channels don't always draw the same type of audience. A person who might click on the ad is in some cases further along in their shopping cycle and therefore more likely to buy. On the other hand, there are people who will under no circumstances click on a paid ad.
Using AdWords as a part of your digital marketing strategy makes sure you've got all of your bases covered. Another benefit is that you get to choose the terms and keywords for which your ads show. So if for instance your website ranks very well for a phrase "business trip to sweden", but you don't rank at all for "travel to stockholm", the latter might be a good phrase to put in your AdWords account. This way you can fill in the weak spots in your SEO (or complement your SEO) and increase your visibility by a lot.
It strengthens your brand awareness
Brand awareness is a staple of marketing, and having it can bring all kinds of good things your way. Things like lowered cost per acquisition, higher loyalty, increased Word of Mouth and more. AdWords can help with building your brand awareness in more ways than one.
First, there's the display network. It's a huge network of Google's partner sites on which your ads might show. You can advertise via banners, text ads, animations or even interactive ads, and you can choose the sites which you want to advertise on. Google display network can reach over 86% of the total online population so rest assured, if you want it, you will be seen.
Search network is also very interesting because you can steal the complete page with a good combination of AdWords, SEO and social marketing. This is huge because everything the audience can click at is somehow related to you. And if you have the power to that, then you must be big and important, right?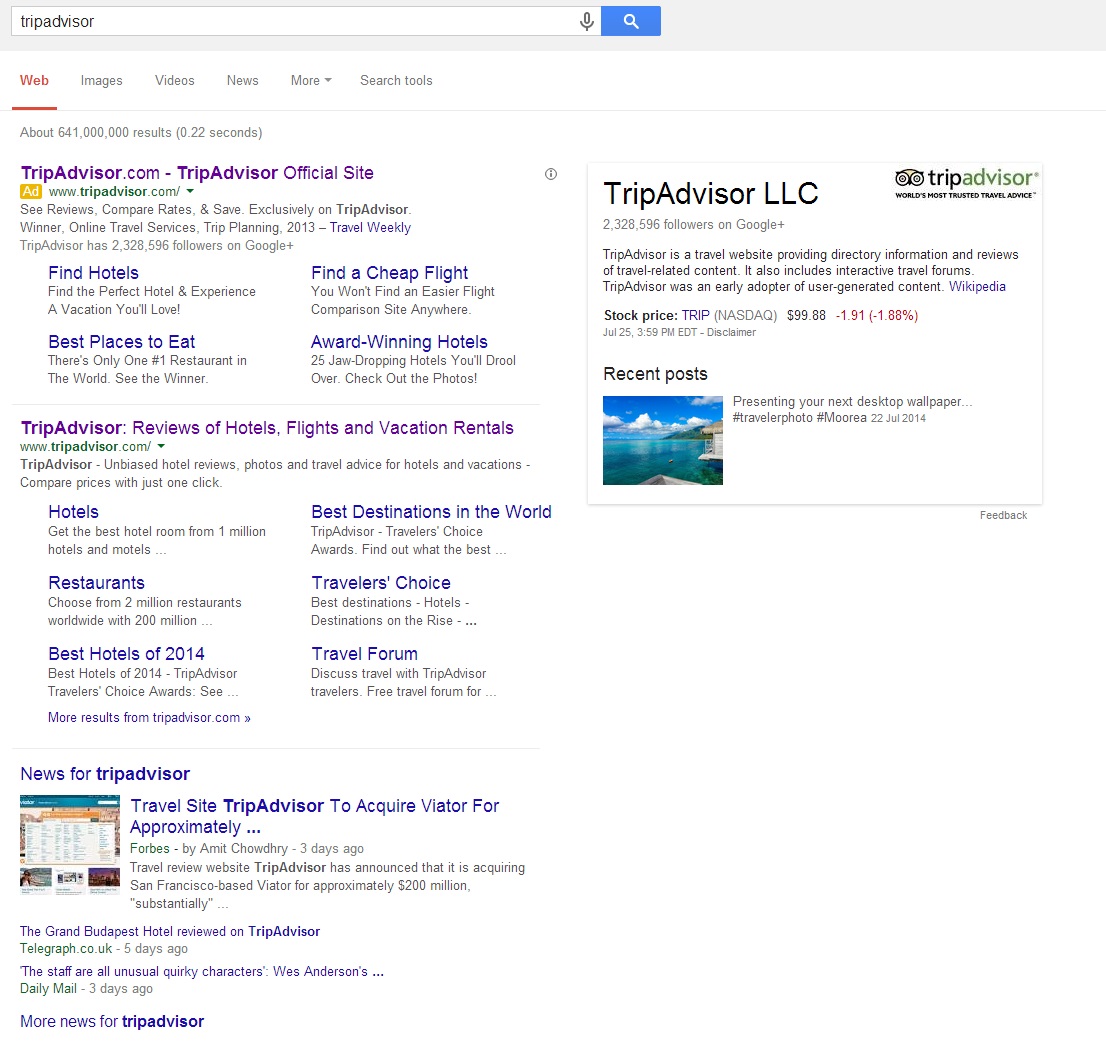 It's even better on mobile: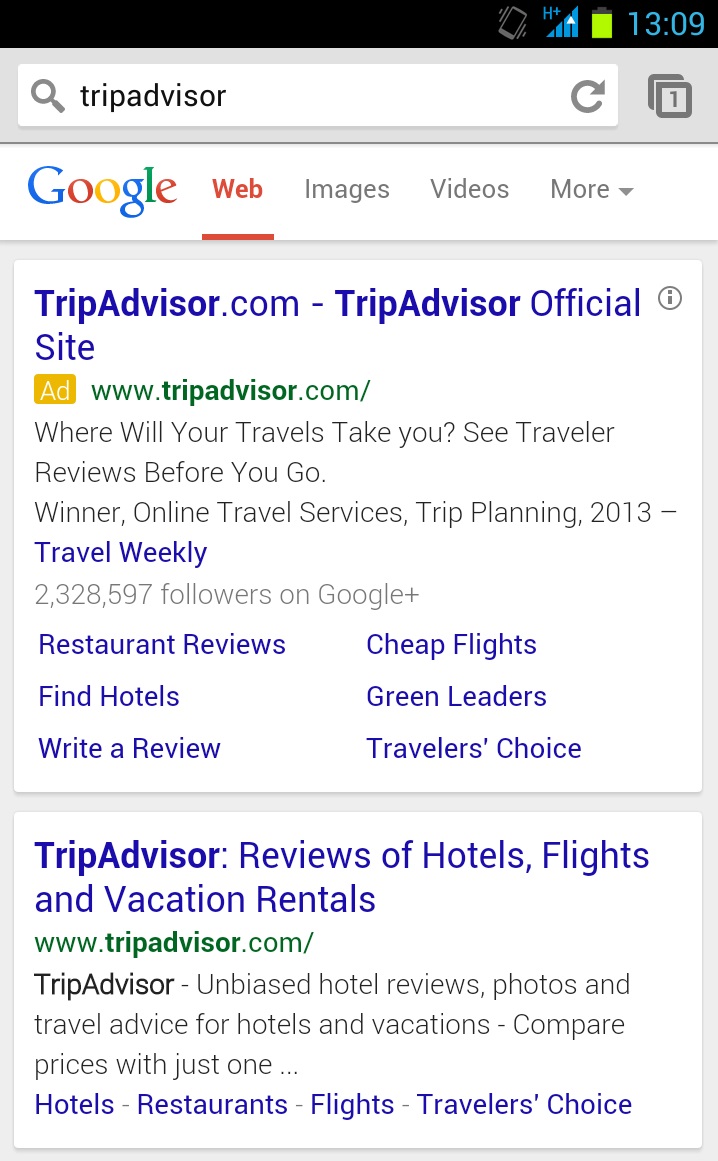 It strengthens your SEO
People mostly think AdWords and SEO are at odds with each other, because if you rank for something organically then what's the point of paying for that phrase too? Well, no. Firstly, fixed organic rankings are a thing of history now, and they depend on the location you search from, a language you search in, your past searches, your browser, device and much more. Point is, you can't know for sure what your position on Google is.
Secondly, studies show that organic and paid keywords together get more clicks than an organic keyword in the first position does by itself. I didn't believe the studies, so I tested it myself. I now believe the studies. This really works, and the funny thing is you get better click rates for your ads if you're also highly ranked on organic results.
Thirdly, a well structured AdWords account provides a wealth of information for SEOs. You can tell exactly which phrase the visitor used when he clicked your ad, and you can even relate that keyword to some action you wanted him to complete. For instance, someone searching for "online booking a trip to dubrovnik" clicks your ad, comes to your site and uses your booking engine to book and pay via credit card. You will know what that person was searching for, which pages on your site he visited, what he bought, and how much he paid for it, and in the future, you might put more effort into optimization of that phrase.
It's not that hard to learn
Sure, as with any skill, there are some hidden depths in AdWords, but the basics are really pretty simple to grasp. While the specifics of setting up an AdWords account aren't in the scope of this article (but we will do that soon), the general workflow goes something like this:
Create an AdWords account (set up passwords, currency, language, etc.)
Create a campaign (pick text ads or image ads, choose who you want to show your ads to and when)
Create and ad group (type in ad text, upload pictures, etc.)
Choose audience targeting (Keywords, interests, categories, placements)
Set up budgets, and make an initial payment
Easy enough isn't it? In case you have problems and questions, Google offers amazing tutorials and help files to get you started.
There's an even simpler version of AdWords called AdWords Express which automates most of the functionalities and can be a good choice for small tour operators or travel businesses which don't have too much competition.
There you go, 6 reasons why you should be using AdWords. If you're in doubt, my advice would be to set some predefined budget aside, spend a day or two setting up a basic account, spend that budget and see where it gets you. You could be in for a surprise.
Come back to our blog in a few weeks, and we'll show you in detail (and pictures!) how to create and setup an AdWords account.